Moonrise - Soul's Inner Pendulum (2009)
Moonrise - Soul's Inner Pendulum (2009)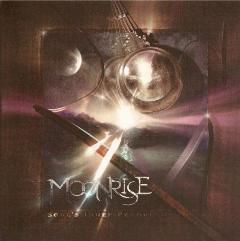 01. Awakened - 07:52 
02. Angels' Hidden Plan - 06:57 
03. I Call My Soul - 04:11 
04. Icarus (Full Moon 2) - 06:09 
05. Empty Lines - 06:31 
06. Night Sky - 06:09 
07. Feeling Like I Lost My Mind - 06:56 
08. The Greatest Miracle - 13:18

Grzegorz Jakieła - drums;
Marcin Kruczek - guitar;
Kamil Konieczniak - keyboards, bass guitar, loops, guitar, acoustic guitar;
Dariusz Rybka - saxophone
+
Łukasz Gall - vocal;
Paweł Kuźmiczyn - bass guitar (07)

Wielowątkowość muzyki to chyba jedna z najważniejszych jej cech. Budowanie wspaniałego klimatu albumu wymaga wiele pracy i talentu. Tego z pewnością nie może odmówić sobie Moonrise z Polskiej sceny muzycznej. Śmiało można nazwać ten zespół klasykiem, w pozytywnym tego słowa znaczeniu. "Soul's Inner Pendulum" płynie przez umysł czystym nieskazitelnym dźwiękiem przeszłości. Czerpie wiele z prekursorów, pchając się wartko naprzód. Art rock jest nieco nieprecyzyjnym określeniem. Tu sprawdza się idealnie. Jest to dynamiczny pryzmat progresywnego i neoprogresywnego spojrzenia na muzykę. Każdy utwór składa się na piękną całość. Buduje wielobarwny kołowrót dźwięku. Atakuje każdą cząstkę myśli uciekającej w dźwięk. Łukasz Gall potęguje nastrój wyśmienitym wokalem. Utwory takie jak "Icarus (Full Moon 2)" i "The Greates Miracle" to prawdziwe perełki.
Jak daleko Moonrise zajdzie w muzyce ? Kto wie! Drzwi do umysłów otwarte są szeroko. ---Piotr Gajek, infomusic.pl
In 2008, we could enjoy The Lights Of A Distant Bay, the debut album of Polish Moonrise, which is in fact a project by multi-instrumentalist Kamil Konieczniak. On this album, singer Lukasz Gall from Millenium - another Polish band - contributed as a guest musician. Because of that album, I wrote that Moonrise's sound is firmly rooted into the neo-prog tradition of bands like early Marillion, IQ and Pendragon. After their acclaimed debut, Konieczniak went again to the studio to record a successor, released at the end of 2009.
The sound on Soul's Inner Pendulum is in the vein of the debut album, but due to Darek Rybka's saxophone and Marcin Kruczek 's guitar Pink Floyd often came to my mind. Most of the eight compositions start mellow and then turn into a slow rhythm with a nice atmosphere, embellished with wonderful guitar and keyboard solos. A good example is the opener Awakened with a dreamy start with floating keyboard sounds, acoustic rhythm guitar and melancholic vocals. Gradually lush keyboards take over first with mellotron violin waves and then with a spectacular synthesizer solo, protrusive guitar riffs and a guitar solo in the vein of David Gilmour. What a start! In Angels Hidden Plan, we hear mellotron violins with tender piano, sensitive guitar runs with twanging acoustic guitar followed by intense saxophone play and again mellotron violins. Just beautifully done. Icarus (Full Moon 2) is a mid-tempo heavy and dynamic piece featuring tight drums and a powerful wah-wah guitar solo. Feeling Like I Lost My Mind is guitar-orientated as well. You can enjoy a strongly build-up guitar solo taking you to prog heaven. Being there, our joy continues with the final composition The Greatest Miracle. This 13-minute epic starts mellow with a saxophone, a howling guitar solo and a fluent synthesizer solo. Then the atmosphere changes into bombastic with pleasant vocals, powerful saxophone and guitar work. The final part is very compelling with a fine 'gooseflesh' guitar solo in the vein of Andy Latimer (Camel).
I'm sure that neo-prog heads, fans of modern prog rock and guitar freaks who love Andy Latimer, Nick Barrett (Pendragon) and David Gilmour will be delighted about this wonderful second Moonrise-album! --- Erik Neuteboom, backgroundmagazine.nl
download (mp3 @320 kbs):
yandex 4shared mega mediafire cloudmailru uplea ge.tt