Crystal Viper – Metal Nation (2009)
Crystal Viper – Metal Nation (2009)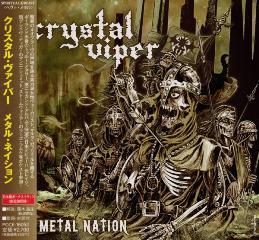 01. Breaking the Curse
02. Metal Nation
03. Bringer of the Light
04. 1428
05. The Anvil of Hate
06. Zombie Lust (Flesh Eaters)
07. Her Crimson Tears
08. Legions of Truth
09. Gladiator, Die By the Blade
09a. Entering the Arena
09b. Clash of the Titans
09c. Glory and Victory
10. Agents of Steel ("Agent Steel" cover)
+
11. Sleeping Swords ( 2008 version )

Tom Woryna - bass guitar;
Tomasz Dańczak "Golem" - drums;
Lukasz Halczuch aka Andy Wave - guitar;
Marta Gabriel - vocal, back vocal, piano, grand piano, keyboards
+
Manni Schmidt ("Grave Digger", "Rage") - solo guitar (04);
Frank Knight ("X - Wild") - vocal (07);
Lars Ramcke ("Stormwarrior) - vocal (08).

CRYSTAL VIPER to polski zespół heavymetalowy, założony w 2003 roku przez Martę Gabriel.
Latem 2006 roku krystalizuje się pierwszy skład i CRYSTAL VIPER staje się regularnym zespołem. Tworzą go: Marta Gabriel jako wokalistka i kompozytor, Andy Wave (czyli Łukasz Halczuch) na gitarze, Tomek "Golem" Dańczak na perkusji, i Tomek Targosz na gitarze basowej. Tego samego roku zespół dokonuje pierwszego oficjalnego nagrania (cover utworu "Flaming Metal Systems" na składankę w hołdzie MANILLA ROAD), i podpisuje kontrakt z niemiecką wytwórnią Karthago Records. Debiutancki album koncepcyjny zatytułowany "The Curse Of Crystal Viper" ukazuje się na początku 2007 roku, a rok po nim ukazuje się mini album "The Last Axeman" (2008) na który trafiają wersje demo nowych utworów, alternatywne wersje utworów z pierwszej płyty, oraz cover klasycznego utworu VIRGIN STEELE "Blood And Gasoline", nagrany przez 3 członków CRYSTAL VIPER i dwoje członków VIRGIN STEELE (fani nazywają ten projekt "CRYSTAL STEELE"). W roku 2009, ukazuje się druga płyta zespołu, "Metal Nation", na której debiutuje nowy basista, Tomasz Woryna, i która powstała we współpracy z Andy'm La Rocque, gitarzystą grupy KING DIAMOND). --- crystalviper.com
Crystal Viper is a female-fronted power metal band out of Poland, and they temper this sophomore effort with enough guts and glory and old school fervor to have rocked my face off on a Saturday afternoon. This is a superior effort to The Curse of Crystal Viper and it should appeal to both young and old fans of melodic metal with some bite to it.
"Breaking the Curse" leads off, a symphonic intro comprised of acoustics and glorious synthesizers, weaving a tragic and brief tale to herald the arrival of "Metal Nation", which uses some of the same base melodies to create a nice continuity. Vocalist Marta Gabriel, errr...excuse me, Leather Wych has a pretty raw tone to her voice that I appreciate, you also catch a hint of her accent. Works for me. This is not fairy metal, so if you're seeking ridiculous operatic vocals and songs about teenage vampires and wizard academies, you'd better fuck off. Leather Wych occasionally busts into a higher register which seems a little too pompous for the album's sake, but these moments are brief. The leads are scorching, pure Euro power metal and the band can really fire you up like in "Bringer of the Light" or "The Anvil of Hate". I wasn't big into the more balladic side of the band as on "Her Crimson Tears", but at least it has some nice leadwork. Other crushers include "Gladiator, by the Blade" and "Legions of Truth".
The album sounds tight but not overproduced like many other power metal efforts. The guitar tones are crunchy and Marta's vocals truly soar. There are also some great guest vocal appearances from Lars of Stormwarrior and fucking Frank Knight of X-Wild (oh yes, it's true!). Both fit straight in opposite the frontwoman. There are some less than original riffs present (it's power metal...) and the album is far from perfect, but it's a rousing good time if you like some fury and melody with your traditional fist pumping. Fans of Helloween, Gamma Ray, Scanner, Iron Savior and others should check it out. ---autothrall, metal-archives.com
download (mp3 @320 kbs):
yandex 4shared mega mediafire uloz.to cloudmailru uptobox ge.tt