Crystal Viper - Legends (2010)
Crystal Viper - Legends (2010)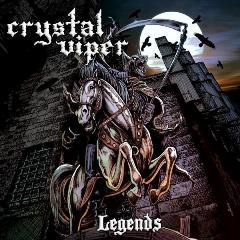 01. The Truth (Intro) - 00:41
02. The Ghost Ship - 04:22
03. Blood of the Heroes - 04:41
04. Greed is Blind - 04:08
05. Sydonia Bork - 04:59
06. Goddess of Death - 05:44
07. Night of the Sin - 04:25
08. Secret of the Black Water - 04:51
09. A Man of Stone - 04:56
10. Black Leviathan - 04:37
+
11. T.V. War ("Accept" cover) - 03:29

Tom Woryna - bass guitar;
Tom "Golem" Danczak - drums;
Lukasz Halczuch aka Andy Wave - guitar;
Marta Gabriel - vocal, back vocal, grand piano, keyboards
+
Rhino ("Holy Force", "Manowar") - voice (narration) (01);
Mat Sinner - vocal (03);
Stefan Kaufmann ("Accept", U.D.O.) - solo guitar (07);
Dano Boland ("Wizard") - back vocal (02, 07);
Sven D'Anna ("Wizard") - back vocal (02, 07)

Bardzo mnie cieszy, że kolejna polska kapela trafiła pod skrzydła znanego, europejskiego wydawcy. Kilkuletnia ciężka praca samego zespołu, jak i menedżera doprowadziły do tego, że grupa zaczęła być znana w Europie, co skutkuje - między innymi - obecnością na kilku ważnych festiwalach.
A sama płyta, no cóż, to klasyczny, ani lepszy, ani też gorszy album Crystal Viper. To, co poruszało, znalazło się na pierwszym krążku, było na swój sposób nowe, na swój sposób ciekawe. Teraz jest już (tylko) kolejnym dobrym albumem. Na pewno na uwagę zasługiwał i wciąż zasługuje świetny wokal Marty. Takiego wokalu – według mnie – brakowało przez ostatnie lata na naszym podwórku.
Na tym krążku wszystko jest na znanym nam już, wysokim poziomie, ale brakuje chyba już tej energii, tej radości z grania, wszystko wydaje się być takie bardziej wystudiowane, pachnie trochę sztucznością, graniem pod wydawcę, a nie fanów.
Nie zmienia to jedna faktu, że płyty słucha się bardzo miło, bo i muzyka wszak jest bardzo miła dla miłośnika heavy metalowych dźwięków, spod znaku Running Wild, Manowar, czy Accept, którego całkiem udany cover w postaci "TV War" zespół umieścił na końcu albumu.
Dostajemy klasyczny, często patatajkowy metal, którego tak naprawdę nigdy dość, znakomicie zagrany (na uwagę zasługują coraz ciekawsze solówki gitarzysty. Mnie osobiście spodobała się zwłaszcza ta w "Night Of The Sin"), ale nie brak tu szybkich kawałków (jak wspomniany "Night Of The Sin" czy "Man Of Stone"), pojawiają się utwory cięższe, mocniejsze ("Goddes Of Death", "Secrets Of The Black Water") oraz obowiązkowa ballada "Symonia Bork".
Na uwagę zasługuje koncept albumu, czyli wykorzystanie różnych polskich podań, jako podstawy do tekstów. Rzecz godna uznania.
Polecam tę płytę wszystkich fanom starego, dobrego metalu. Może nie wywoła takich emocji, jak krążki poprzednie, ale to wciąż muzyka na wysokim światowym poziomie, z jedną z najciekawszych wokalistek w świecie metalu. --- Ray, metalmundus.pl
In comparison to their previous output I've got to say that Legends is their most pristine sounding release, and the production is a lot clearer and brighter than the last two. The riffs are excellent as per usual, catchy and very Running Wild. The rhythm section is spot on, quality sticks work courtesy of "Golem" (Tomasz Danczak) which serves as the perfect backbone, and Tom Woryna's bass is kept in the mix right where it belongs. Returning to the guitars, Andy Wave has done a cracking job, as mentioned before the riffs are great and catchy, the solos again are spot on, and the melodies are perfectly catchy and hooky and have kept me going back to this.
Track-wise, the album kicks off with a short narrated piece which I'm indifferent to, I could have done without but it doesn't detract at all. What follows is a tour de force in heavy metal brilliance with three winners straight off the bat, "The Ghost Ship" and "Blood of the Heroes" are straight out of Running Wild although never verge on outright plagiarism, with both boasting wickedly catch choruses. I should mention that it does take a few spins for the hooks to bury their way into your flesh, I took me around four or five spins to register everything but now I wander around the house singing the songs and humming the melodies. "Greed Is Blind" seems to be the lead off track, having a music video made for it, excellent track again with some real nice melodies.
I could really go on about stand out tracks. I'd say the weakest offering is probably "Sydonia Bork", though it's still a pretty catchy ballad. After an ever so slight down point Crystal Viper return to the awesomeness of the opening three belters, with the quality remaining high up until their cover of Accept's "TV War". With personal highlights in the catchy "Night of the Sin" and the awesome "Black Leviathan" with its Maiden style intro, I could really go on but I would imagine you've got the picture by now: this rules.
I've been pleasantly surprised by this album, and I've got to say its one of my favorites of 2010. With the only slight niggles being the ballad, which only really niggles because I felt it was placed too soon into the album, and also as previously mentioned this took a little while to click, so those with a short attention span could be thrown. Overall if you're a fan of Crystal Viper then this is a no-brainer you won't be disappointed. Fans of good old fashioned heavy metal, this album is a boat load of fun and certainly worthy of your attention. Highly Recommended. --- Andromeda_Unchained, metal-archives.com
download (mp3 @320 kbs):
yandex 4shared mega mediafire uloz.to cloudmailru uptobox ge.tt