Crystal Viper - Possession (2013)
Crystal Viper - Possession (2013)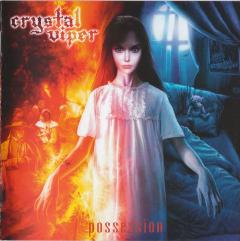 01. Zeta Reticuli - 00:55
02. Voices in My Head - 05:01
03. Julia is Possessed - 04:04
04. Fight Evil with Evil - 05:26
05. Mark of the Horned One - 03:38
06. Why Can't You Listen? - 06:51
07. You Will Die You Will Burn - 04:18
08. We Are Many - 05:24
09. Prophet of the End - 05:36
+
10. Thundersteel ("Riot" cover) - 03:49

Michał Badocha - bass guitar;
Tom "Golem" Danczak - drums;
Lukasz Halczuch aka Andy Wave - guitar;
Marta Gabriel - vocal, keyboards;
+
Sataniac - vocal (03);
Harry Conklin - vocal (04).

Odnoszę wrażenie, że "Possession" powstał zdecydowanie zbyt szybko. Minął raptem rok od wydania bardzo dobrego "Crimen Excepta", a tu panowie i sympatyczna pani wokalistka wkraczają na rynek z nowym materiałem. Materiałem, który sprawia wrażenie, jakby powstawał w pośpiechu i na zdecydowanie obniżonych lotach. I to niestety słychać – zaczynając od samych kompozycji, które nie mają w sobie zbyt wiele ognia i polotu, a kończąc na fatalnej produkcji (lepiej nie odpalajcie tego materiału z Internetu, bo nie dobrniecie nawet do drugiego kawałka). Krótko mówiąc, brzmienie jest cieniutkie jak nitka makaronu i płaściutkie jak pizza. Traci na tym klimat, tracą nienajgorsze przecież partie solowe gitar, traci też Marta Gabriel, która ratując nieco honor nowej płyty, wychodzi właściwie na taką "the last axeman" całego tego przedsięwzięcia. Szkoda, że tylko ona…
Wiem, jestem może brutalny i nieobiektywny. Co do drugiego zarzutu odpowiem krótko – obiektywizm w przypadku pisania o muzyce ma taki sam sens, jak dyskusja na temat gustów kulinarnych. Jeden woli schabowego, inny zadowoli się makaronem i pizzą wegetariańską. A że brutalnie? Cóż, myślę, że działa tutaj prosty mechanizm psychologiczny. Oczekiwałem od tej płyty płomieni, energii, mocy, oczekiwałem METALU. A dostałem, co najwyżej, kawałek cienkiego metalowego (w końcu nazwa zobowiązuje) drutu, zwanego tu i ówdzie zimnym ogniem. Ooo, mniej więcej coś TAKIEGO. W sam raz na święta? Może, ale raczej nie na rockową imprezę. Reasumując – będę czekał na kolejny materiał Crystal Viper, a póki co wolę raczyć się starszymi dokonaniami kapeli, ewentualnie sprawdzając co lepsze momenty z omawianego tu krążka. Bo i takie tutaj są, choćby pod numerami 4 i 6. Szkoda tylko, że niespecjalnie poprawiają one wizerunek całego materiału. ---Kamil Trombik, etalmundus.pl
So, we all know Crystal Viper is awesome at this point, right? After living high on the hog with prime album after prime album, including the exceptional "Crimen Expecta," one would expect this Polish heavy metal machine to bust a valve or a gas line and officially put an end to the party. Every brand spanking new car builds up rust and eventually chugs out its last few miles in a rough, clunky haze, practically begging for someone to end its misery. Well, "Possession" is several thousand miles from the junkyard being an option, but Crystal Viper's attack is beginning to show the classic signs of an aging band losing some of its zest. However, for the group's weakest release thus far, "Possession" is still a smooth ride, usually.
The album's concept is a little goofy: it's about a demonically possessed girl who learns her demon is actually an ANCIENT ALIEN THAT CONTROLS THE WORLD AND THE GOVERNMENT, BRO. Although silly, I could never look at the body of work Marta Gabriel has created in her time as Crystal Viper's leader and ever call her anything short of incredible. As a vocalist, a songwriter, a guitar player, and a performer, she's proven herself to be one of the finest metal elites around. "Possession" has the semblance of dark emotion and Crystal Viper's own breed of conceptual horror à la King Diamond/Mercyful Fate (look at the artwork!), leaving the music to rely on an incredibly passionate and powerful vocal performance, I'd say Marta's finest yet.
The second half of "Possession" ventures into a melancholic, epic space that reminds me vaguely of Candlemass or Atlantean Kodex; Marta's voice is prime, and the direction of these anthems shows a kind of natural evolution that suits this band wonderfully—Crystal Viper is growing, not retracing. The group's real strength has always been the driving heavy metal anthem roasting with straightforward riffs and flashy guitar leads, which "Possession" has plenty of. "Fight Evil With Evil" and "We are Many" are perhaps some of the finest tunes from the Crystal Viper camp, boasting excellent choruses and superb musicianship. Come on, it's Crystal Viper: they aren't usually exploring experimental realms or pulling surprises out of their backsides, but do they really need to with sturdy riffs and addictive choruses everywhere?
My only issue with the album is its occasional flop. "You Will Burn You Will Die" is pretty mundane, and "Julia is Possessed" falls flat as Gabriel spits out lyrical nonsense opposite Desaster's Sataniac's growling grunts, which sound out of place and ineffective. Cool cameo, but little else can be said about it. I'm more fond of the minor role Harry Conklin of Jag Panzer and Satan's Host plays during a verse of "Fight Evil with Evil." Conklin's voice is natural in this setting, and it's not a far cry to call his brief show one of the better installments of the customary Crystal Viper guest appearance. "Possession" isn't much more than another slab of heavy metal goodness. Crystal Viper is still awesome, and the band's fifth full-length record lives up to the quality standard of the Crystal Viper brand with the same harsh bite and brawn. No complaints here. ---GuntherTheUndying, metal-archives.com
download (mp3 @320 kbs):
yandex mediafire uloz.to mega 4shared cloudmailru gett