The Scottish Collection (3 CD Box Set) (1995)
The Scottish Collection (3 CD Box Set) (1995)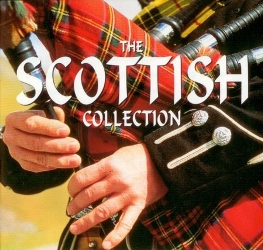 CD1: The Scottish Collection – Disc One (Royal Scots Dragoon Guards):

01. The Old Rustic Bridge / The Rowan Tree [0:02:00.70]			play
02. Speed Your Journey (Song of the Hebrew Slaves) [0:02:57.56]
03. Moonliner Rock March [0:02:49.57]
04. Orange & Blue / The Keel Row / The High Road to Linton / The Kilt isMy Delight / The Banjo Breakdown [0:02:56.46]
05. Y Viva Espana [0:01:37.02]
06. The Black Watch Polka / Stumpie / The Fiddler's Joy / Kate Dalrymple/ Rachel Rae / The Battle of the Somme [0:04:49.26]
07. Barock 75 [0:02:37.86]
08. The Highland Cradle Song / The Skye Boat Song [0:02:33.04]
09. Brazil [0:03:01.22]
10. A Tribute to Duthart [0:01:54.10]
11. The Black Isle / Ian MacFayden's Tuning Phrases / Going to Pitlochr [0:03:23.42]
12. Amazing Grace [0:02:43.40]
13. Una Paloma Blanca [0:02:59.06]
14. 6-8 Marches: The MacNeils of Ugadale / The Tenth Battalion HLI Crossing the Rhine / Dovercote ark [0:04:02.57]
15. Rock 'N' Roll March [0:02:40.53]
16. Largo [0:02:51.82]
17. Theme in Glory [0:02:38.80]
18. Retreat Airs: Lochanside / Dream Valley of Glendaruel / Bloody Fields of Flanders [0:03:38.80]
19. Rockout [0:03:26.13]
20. 4-4 Marches: Far O'er the Sea / Flett from Flotta / 8th Argylls Farewell to the 116th Regiment [0:02:26.37]
21. Flower of Scotland / Mingulay Boat Song [0:03:00.72]

CD2: The Scottish Collection – Disc Two (Alexander Brothers)

01. Scotland Scotland [0:03:51.24]
02. Any Dream Will Do [0:03:19.06]
03. Mull of Kintyre [0:04:01.00]
04. The Oil Rigger [0:02:28.66]
05. The Road to Dundee [0:03:05.00]
06. The Wild Side of Life [0:03:10.13]
07. All Along Loch Long [0:03:33.89]
08. Nobody's Child [0:04:13.57]
09. The Flying Scotsman [0:02:54.00]
10. Caledonia [0:03:20.42]
11. The Lass of Bon-Accord [0:02:55.44]
12. My Big Kilmarnoch Bunnet / Sour Milk Cairt / Johnnie Lad [0:03:22.96]
13. Reels Medley: Jim Johnson / The Colonel / Kilwaughter House [0:02:17.06]	play
14. Blackboard of my Heart [0:03:32.57]
15. He Bought My Soul at Clavary [0:03:32.13]
16. Come by the Hills [0:03:42.09]
17. Jigs Medley: Donald Iain Rankine / Pat McCann MD / Braewell [0:02:16.64]
18. Cornkisters Medley: Barnyards O'Delgaty / Lass of Fyvie / Muckin O'Geordie's Byre [0:03:09.93]
19. Farewell My Love [0:03:15.06]
20. Hiking Songs Medley: The Hiking Song / Uist Tramping Song (Come Along, Come Along) / Mairi's Wedding [0:03:07.84]

CD3: The Scottish Collection – Disc Three

01. Glen Daly / Scotland the Brave [0:02:46.86]
02. Alexander Brothers / Bonnie Wee Annie [0:02:58.37]
03. Alexander Brothers / Songs of the Borders Medley: (a) The Friendly Folk O' the Border, (b) Bonnie Gallowa', (c) Soft Lowland T [0:03:32.93]
04. Lena Martell / Scottish Trlogy Medley: (a) Auld Lang Syne, (b) Loch Lommand, (c) Amazing Grace [0:05:33.66]
05. Alexander Brothers / Down in the Glen [0:02:28.93]				play
06. Glen Daly / MacNamara's Band [0:02:20.29]
07. Alexander Brothers / Marching Home Medley: (a) Campbeltown Loch, (b) Rothesay-O, (c) The Piper O' Dundee, (d) No Awa Tae Bide [0:03:23.93]
08. Calum Kennedy, Mary of Skye [0:02:34.33]
09. Glen Daly / The Sky is Bluer in Scotland [0:04:10.30]
10. Will Starr / Cuckoo Waltz [0:03:12.00]
11. Alexander Brothers / Auld Scotch Songs Medley: (a) Sing Tae Me the Auld Scotch Songs, (b) The Rowan Tree, (c) The Auld Hoose, ngs (Reprise)
 – Alexander Brothers [0:03:58.93]
12. Jim MacLeod & His Band / Grand March Medley: (a) Dunbarton Castle, (b) Highland Laddie, (c) The Black Bear [0:02:59.46]
13. Andy Stewart with Jimmy Blue / A Guid Scotch Night [0:02:08.62]
14. Alexander Brothers / There's Nae Toon! Medley: (a) The Northern Lights of Old Aberdeen, (b) The Road to Dundee, (c) I Belong t [0:05:19.73]
15. Glen Daly / A Little Street Where Old Friends Meet [0:03:43.86]
16. Andy Stewart / A Scottish Soldier [0:03:41.20]
17. Jim MacLeod & His Band / Duke & Duchess of Edinburgh [0:05:31.73]
18. Glen Daly / Dear Old Glasgow Town [0:01:55.80]
19. Alexander Brothers / Dreaming of Home [0:02:52.60]
20. Alexander Brothers / Flower of Scotland [0:04:03.22]

Many outsiders associate Scottish folk music almost entirely with bagpipes, which has indeed long played an important part of Scottish music. It is, however, not unique or indigenous to Scotland, having been imported around the 15th century and still being in use across Europe and farther abroad. The pìob mór, or Highland bagpipe, is the most distinctively Scottish form of the instrument; it was created for clan pipers to be used for various, often military or marching, purposes. Piping clans included the MacArthurs, MacDonalds, McKays and, especially, the MacCrimmons, who were hereditary pipers to the Folk and Ceilidh Music. This takes many forms in a broad musical tradition, although the dividing lines are not rigid, and many artists work across the boundaries. Culturally there is a split between the Gaelic tradition and the Scots tradition.
There are ballads and laments, generally sung by a lone singer with backing, or played on traditional instruments such as harp, fiddle, accordion or bagpipes.
Dance music is played across Scotland at dances or ceilidhs. Group dances such as jigs, strathspeys, waltzes and reels, are performed to music provided typically by an ensemble, or dance band, which can include fiddle (violin), bagpipe, accordion and percussion. The major names to know in this part of the musical tradition are Niel Gow, James Scott Skinner, and Jimmy Shand.
There are traditional folk songs, which are generally melodic, haunting or rousing. These are often very region specific, and are performed today by a burgeoning variety of folk groups. Most famous of which is Capercaillie.
Popular songs were originally produced by Music Hall performers such as Harry Lauder and Will Fyffe for the stage. More modern exponents of the style have included Andy Stewart, Glen Daly, Moira Anderson, Kenneth McKellar and the Alexander Brothers.
Military music, typically massed pipes and drums. Major Scottish regiments maintain bapipe and drum bands which preserve scottish marches, quicksteps, reels and laments. Many towns also have voluntary pipe bands which cover the same repertoire. ---.traditionalmusic.co.uk/scottish-folk-music/
download:
Zmieniony (Czwartek, 02 Sierpień 2012 14:07)