Now Thats What I Call Music 79 (2011)
Now Thats What I Call Music 79 (2011)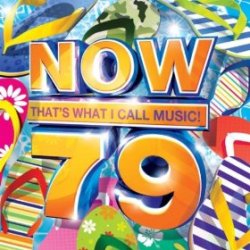 CD1

01.adele – someone like you [04:45]
02.aloe blacc – i need a dollar [03:24]
03.bruno mars – the lazy song [03:10]
04.jason derulo – dont wanna go home [03:28]
05.lady gaga – born this way [03:42]
06.jennifer lopez – on the floor [03:41]
07.alexandra stan – mr saxobeat [02:34]
08.katy perry – last friday night [03:53]					play
09.the wanted – glad you came [03:20]
10.nicole scherzinger – dont hold your breath [03:19]
11.the black eyed peas – just cant get enough [03:41]
12.take that – love love [03:25]
13.jessie j – nobodys perfect [03:43]
14.the saturdays – notorious [03:14]
15.rihanna – california king bed [03:50]
16.scouting for girls – love how it hurts [03:09]
17.coldplay – every teardrop is a waterfall [04:05]
18.cee lo green – i want you (hold on to love) [03:31]
19.yasmin – finish line [03:58]
20.ed sheeran – the a team [04:21]
21.birdy – skinny love [03:23]
22.templecloud – one big family [03:14]

CD2

01.pitbull feat ne yo afrojack and nayer – give me [04:15]
everything
02.lmfao feat lauren bennett and goonrock – party [04:24]
rock anthem
03.dj fresh feat sian evans – louder [03:29]
04.example – changed the way you kissed me [03:15]
05.david guetta feat nicki minaj and flo rida – [03:17]
where them girls at
06.chris brown feat benny benassi – beautiful people [03:48]
07.calvin harris feat kelis – bounce [03:43]
08.loick essien feat tanya lacey – how we roll [03:33]
09.nicki minaj – super bass [03:23]
10.tinchy stryder feat dappy – spaceship [03:38]
11.wretch 32 feat example – unorthodox [03:04]
12.vato gonzalez feat foreign brggars – badman [02:46]				play
riddim (jump)
13.snoop dog vs david guetta – sweat__david guetta [03:17]
remix
14.swedish house mafia – save the world [03:34]
15.dev feat the cataracs – bass down low [03:31]
16.mann feat 50 cent – buzzin [03:46]
17.chase and status feat tinie tempah – hitz [03:09]
18.katy b – broken record [03:21]
19.nero – guilt [02:58]
20.alex gaudino feat kelly rowland – what a feeling [03:01]
21.wynter gordon – dirty talk [03:19]
22.inna – sun is up [02:35]

Now That's What I Call Music! 79 or Now! 79 is a double-disc compilation album released in Ireland on 22 July 2011 and the United Kingdom on 25 July 2011.[1] It is the 79th edition of the Now! series in the UK.
Now 79 features ten songs which reached number one on the UK Singles Chart: "Someone Like You", "The Lazy Song", "Don't Wanna Go Home", "On the Floor","Glad You Came", "Don't Hold Your Breath", "Give Me Everything", "Party Rock Anthem", "Louder" and "Changed the Way You Kiss Me".
The version of Jennifer Lopez's song "On the Floor" is the solo version, instead of the version featuring Pitbull that reached number one. The version of Lady Gaga's song, "Born This Way", is an unofficial edit,[citation needed] removing the intro and outro of the song. The version of "Bass Down Low" by Dev included on the album is the "Tinie Tempah Remix".
Yes, they have done it again. 40 odd tracks of which over 30 have done well in charts. As with the three previous albums, an excellant selection.
It could of been even better. Black Eyed Peas, Lady Gaga, Eminem, Nicole Scherzinger, Jenifer Lopez ft Wayne, JLS ft Dev and Mann ft Snoop Dogg & Lyaz, all had tracks excluded which one normally would of expected to be included. With these tracks the album might well of been the best NOW album in recent years. Even chart topper 'on the floor' in fact is not the chart version (Jenifer Lopez without Pitbull).
Even so, a pretty fine group of tracks, that is a must for your colletion. Still would be a terrific present for anybody interested in the current music scene. --- Red Rose "croydon music" (GB)
download (mp3 @256 kbs):
yandex 4shared mega mediafire cloudmailru uplea
Zmieniony (Niedziela, 23 Październik 2016 14:59)