Cat Stevens - Very Best of Cat Stevens (2003)
Cat Stevens - Very Best of Cat Stevens (2003)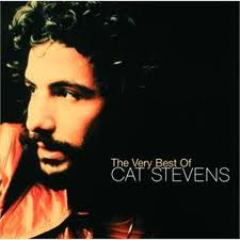 1.    "Moon Shadow" – 2:50
2.    "Father and Son" – 3:41
3.    "Morning Has Broken" (Eleanor Farjeon) – 3:20
4.    "Wild World" – 3:21
5.    "The First Cut Is the Deepest" – 3:01
6.    "Lady D'Arbanville" – 3:45
7.    "Oh Very Young" – 2:36
8.    "Matthew and Son" – 2:44
9.    "Sitting" – 3:14
10.    "Hard Headed Woman" – 3:49
11.    "I Love My Dog" – 2:19
12.    "Ruby Love" – 2:38
13.    "Don't Be Shy" – 2:51
14.    "Can't Keep It In" – 3:00
15.    "Here Comes My Baby" – 2:55
16.    "Into White" – 3:25
17.    "(Remember the Days of The) Old School Yard" – 2:43
18.    "Where Do the Children Play?" – 3:52
19.    "How Can I Tell You" – 4:28
20.    "Another Saturday Night" (Sam Cooke) – 2:28
21.    "Sad Lisa" – 3:42
22.    "Just Another Night" – 3:51
23.    "Peace Train" – 4:12
24.    "If You Want to Sing Out, Sing Out" – 2:46

Born Steven Georgiou, he adopted the name Cat Stevens for his musical career but subsequently became a Muslim, quitting his musical career and changing his name again, this time to Yusuf Islam. This compilation of his music as Cat Stevens is as good as any you are likely to find.
Cat had a minor UK hit in 1966 (I love my dog) but established himself as a songwriter by providing the Tremeloes with their first hit since Brian Poole left them (Here comes my baby) and by providing P P Arnold with her first hit (First cut is the deepest). Those hits were both in 1967, the year in which Cat had his first major hit as a singer, when Matthew and son peaked at number two in the UK. It was the biggest hit he ever had. He had another top ten UK hit (I'm gonna get me a gun) and two minor hits (A bad night, Kitty) in 1967 but none of those hits are included here. Actually, despite their hit status, they aren't really important.
Cat left his original label (Deram) and signed to Island, after which he recorded a series of albums that won him international acclaim. Although he placed six singles on the UK charts, all included here, his reputation ultimately rests with his albums. This explains why so many of his fans do not like compilations of his music, preferring the original albums.
Nevertheless, there is a market for compilations and there are plenty of people who don't want (or can't afford) to collect Cat's original albums. So here you get those hits (Lady D'Arbanville, Moon shadow, Morning has broken, Can't keep it in, Another Saturday night, Remember the days of the old school yard) as well as other classic tracks such as Peace train, Father and son, Wild world and Cat's own versions of Here comes my baby and First cut is the deepest. --- Peter Durward Harris
download:  4shared yandex mediafire
Zmieniony (Sobota, 13 Sierpień 2016 14:03)