Eminem – Look At Me Now (2011)
Eminem – Look At Me Now (2011)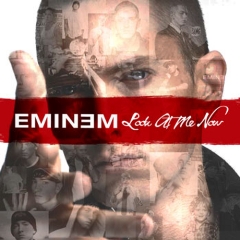 1 – Hello Good Morning (Feat. Diddy-Dirty Money) 
2 – Difficult 
3 – Cocaine (feat. Jazmine Sullivan) 
4 – Syllables (feat. Dr Dree, Jazy-Z,50 Cent, Stat Quo & Ca$his) 	play
5 – Topless (feat. Nas & T.i.) 
6 – Where I'm At (feat. Lloyd Banks# 
7 – Echo #feat. Royce Da 5'9 & Liz Rodrigues) 
8 – All She Wrote (feat. T.i.) 
9 – Living Proof (feat. Royce Da 5'9) 
10 – I Need A Doctor (feat. Dr. Dre) 
11 – All She Wrote [solo Version] 
12 – Romans Revenge (feat. Nicki Minaj) 
13 – Love The Way You Lie (part Ii) (feat. Rihanna) 		play
14 – The Cypher 
15 – Hell Breaks Loose (feat. Dr. Dre) 
16 – No Love (feat. Lil Wayne) 
17 – Airplanes Part 2 (feat. B.o.b & Hayley Williams) 
18 – Celebrity (feat. Lloyd Banks & Akon)

Marshall Bruce Mathers III (born October 17, 1972), better known by his stage name Eminem or his alter ego Slim Shady, is an American rapper, record producer, and actor. Eminem quickly gained popularity in 1999 with his major-label debut album, The Slim Shady LP, which won a Grammy Award for Best Rap Album. The following album, The Marshall Mathers LP, became the fastest-selling solo album in United States history. It brought Eminem increased popularity, including his own record label, Shady Records, and brought his group project, D12, to mainstream recognition. As well as being a member of D12, Eminem is also one half of the hip-hop duo Bad Meets Evil (the other member being Royce da 5'9").
The Marshall Mathers LP and his third major album, The Eminem Show, also won Grammy Awards, making Eminem the first artist to win Best Rap Album for three consecutive LPs. He then won the award again in 2010 for his album Relapse and in 2011 for his album Recovery, giving him a total of 13 Grammys in his career. In 2003, he won the Academy Award for Best Original Song for "Lose Yourself" from the film, 8 Mile, in which he also played the lead. "Lose Yourself" would go on to become the longest running No. 1 hip hop single. Eminem then went on hiatus after touring in 2005. He released his first album since 2004's Encore, titled Relapse, on May 15, 2009. Eminem is the best-selling artist of the decade on the US Nielsen SoundScan, and has sold more than 86.5 million albums worldwide to date, making him one of the best-selling music artists in the world. In 2010, Eminem released his seventh studio album Recovery. It became Eminem's sixth consecutive number-one album in the US and achieved international commercial success, charting at number one in several other countries. It stayed at number-one on the US Billboard 200 chart for five consecutive weeks and a total of seven weeks. Recovery was reported by Billboard to be the best-selling album of 2010, making Eminem the first artist in Nielsen SoundScan history to have two year-end best-selling albums. Recovery is the best selling digital album in history. Recovery was also named the best selling album worldwide of 2010 joining The Eminem Show which was the best seller of 2002 giving him 2 worldwide year end number 1 albums. With Recovery, Eminem achieved the record for most successive US No.1 albums by a solo artist.
In 2005, Eminem was ranked 79th on the VH1 100 Greatest Artists of All-Time. He was also ranked 82nd on Rolling Stone magazine's list of the 100 Greatest Artists of All Time. He was also named the Best Rapper Alive by Vibe magazine in 2008. Including his work with D12, Eminem has achieved ten No. 1 albums on the Billboard Top 200, 7 solo (6 studio albums, 1 compilation), 2 with D12 and 1 with Bad Meets Evil. Eminem has had 13 number one singles worldwide. In December 2009, Eminem was named the Artist of the Decade by Billboard magazine. His albums The Eminem Show, The Marshall Mathers LP, and Encore (in order) ranked as the 3rd,[18] 7th, and 40th best-selling albums of the 2000–2009 decade by Billboard magazine. Also according to Billboard, Eminem has two of his albums among the top five highest selling albums of the 2000s. In the UK, Eminem has sold over 12.5 million records. Eminem has also sold more than 33 million track downloads and 39.6 million albums in the United States alone. In 2010, MTV ranked Eminem as the 7th biggest icon in pop music history. During 2010, Eminem's music generated 94 million streams, more than any other music artist. "Love the Way You Lie", the second single from 2010's Recovery was the best-selling single of 2010 in the United Kingdom even though it did not reach number 1 there, this is the first time this has happened in the UK since 1969. Eminem has totaled over 1 billion views on his music videos on his official Vevo page on YouTube.
Eminem, właściwie Marshall Bruce Mathers III (ur. 17 października 1972 w Saint Joseph, Missouri, USA), znany również pod pseudonimem Slim Shady – amerykański raper, producent oraz aktor. Trzynastokrotny zdobywca Nagrody Grammy oraz laureat i zdobywca Oscara.
Eminem szybko zdobył popularność w 1999 r. za sprawą swego debiutanckiego albumu dla dużej wytwórni, a drugiego solowego The Slim Shady LP, który zdobył nagrodę Grammy dla Najlepszego Albumu Rapowego. Kolejny album The Marshall Mathers LP stał się najszybciej sprzedającym albumem hip-hopowym w historii Ameryki. Przyniósł on muzykowi jeszcze większą popularność, doliczając także powstanie własnej wytwórni płytowej rapera, Shady Records. Za album The Marshall Mathers LP, a także swój czwarty album The Eminem Show zdobył nagrody Grammy, sprawiając iż stał się pierwszym artystą, który zdobył nagrodę Grammy dla Najlepszego Albumu Rapowego za trzy kolejne albumy. W 2003 roku zdobył Oscara za utwór "Lose Yourself" pochodzący ze ścieżki dźwiękowej filmu "8. Mila", w którym zagrał główną rolę. Utwór "Lose Yourself" stał się najdłużej będącym numerem 1 hip-hopowym singlem.
W 2004 roku wydał piąty album "Encore". Po trasach koncertowych w 2005 roku, nastąpiła czteroletnia przerwa w karierze rapera. Eminem powrócił na scenę muzyczną w 2009 r. by wydać szósty studyjny album zatytułowany Relapse, promowany takimi singlami jak "We Made You" czy "Beautiful". Okładkę albumu zdobi mozaika twarzy rapera, składająca się z setek różnego kształtu tabletek.
15 czerwca 2010 roku Eminem wydał swój siódmy solowy album Recovery. Za produkcję odpowiedzialni byli m.in. Alex da Kid, Just Blaze, Boi-1da, DJ Khalil, oraz Dr. Dre. Album promowany był singlami "Not Afraid", "Love The Way You Lie" oraz "No Love". Recovery sprzedał się w nakładzie 5.7 mln egzemplarzy, stając się najlepiej sprzedającym się albumem 2010 roku.
download (mp3 @192 kbs):
yandex 4shared mega mediafire cloudmailru uplea ge.tt
Zmieniony (Piątek, 13 Styczeń 2017 12:50)