Gilbert O'Sullivan - Essential Collection (2016)
Gilbert O'Sullivan - Essential Collection (2016)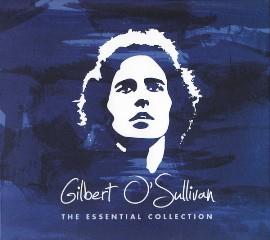 1-1 	No Way (2016 Radio Version) 	3:18
1-2 	Nothing Rhymed 	3:24
1-3 	Clair 	3:00
1-4 	What's In A Kiss 	2:36
1-5 	I Guess I'll Always Love You (2016 Radio Version) 	3:38
1-6 	You Are You 	3:19
1-7 	Ooh-Wakka-Doo-Wakka-Day 	2:47
1-8 	Get Down 	2:40
1-9 	The Golden Rule 	2:34
1-10 	Out Of The Question 	2:58
1-11 	No Matter How I Try 	3:01
1-12 	Happiness Is Me And You 	3:08
1-13 	Why, Oh Why, Oh Why 	3:51
1-14 	Houdini Said 	5:23
1-15 	Can't Think Straight (Duet With Peggy Lee) 	4:02
1-16 	Lost A Friend 	3:04
1-17 	Dear Dream 	3:15
1-18 	Doing What I Know 	4:42
1-19 	Thunder And Lightning 	2:59
1-20 	You Got Me Going 	2:40
1-21 	Made In Love (2015 Radio Version) 	3:06
1-22 	Matrimony 	3:14

2-1 	Alone Again (Naturally) 	3:40
2-2 	We Will 	3:56
2-3 	The Niceness Of It All 	5:53
2-4 	Ooh Baby 	3:44
2-5 	So What 	4:18
2-6 	Answers On A Postcard (Please) 	3:34
2-7 	Young At Heart (We'll Always Remain) 	4:59
2-8 	I Wish I Could Cry 	3:34
2-9 	Miss My Love Today 	3:50
2-10 	All They Wanted To Say 	4:05
2-11 	Can't Get Enough Of You 	3:34
2-12 	Where Would We Be (Without Tea) 	3:13
2-13 	Stick In The Mud 	3:34
2-14 	I Don't Love You (But I Think I Like You) 	3:11
2-15 	Missing You Already 	3:59
2-16 	Because Of You 	2:26
2-17 	At The Very Mention Of Your Name 	4:46
2-18 	Bear With Me 	3:23
2-19 	A Friend Of Mine 	3:22
2-20 	Mr Moody's Garden 	3:01
2-21 	End-vironmental Piece 	1:23

Singer/songwriter Gilbert O'Sullivan successfully combined a flair for Beatlesque popcraft with an old-fashioned music hall sensibility to emerge as one of the most distinctive and popular new performers of the early 1970s. Born Raymond O'Sullivan in Waterford, Ireland on December 1, 1946, he went on to attend art school in Swindon, England, writing songs throughout his formative years and sending out demo tapes to little avail. After graduating he went to work in a London department store; one of his co-workers there was under contract with CBS, and soon O'Sullivan was signed to the label as well. Early singles like "What Can I Do?" and "Mr. Moody's Garden" were released to little attention, however, and so O'Sullivan sent his demo to impresario Gordon Mills, whose MAM label was home to superstars like Tom Jones and Engelbert Humperdinck; the gambit worked, and his first single for MAM, "Nothing Rhymed," became a Top Ten U.K. hit in late 1970.
The wit and craft of O'Sullivan's music aside, much of his early success was predicated on his unusual image -- at the peak of the hippie movement, he resembled nothing so much as a Depression-era street urchin, complete with pudding-bowl haircut, short pants, and flat cap. Subsequent hits including "We Will" and "No Matter How I Try" followed, and in 1971, O'Sullivan issued his debut LP, Himself; a year later, he finally broke through to the American market with the ballad "Alone Again (Naturally)," which topped the U.S. pop charts. Around this time, the singer jettisoned his so-called "Bisto Kid" image in favor of an endless series of collegiate-styled sweaters embossed with the letter "G." In late 1972, O'Sullivan scored his first British number one with "Clair," falling just shy of topping charts on the other side of the Atlantic; the follow-up, "Get Down," reached number one at home as well, as did the LP Back to Front.
As quickly as O'Sullivan ascended to fame, however, his star began to fall. Although singles like "Ooh Baby" and "Happiness Is Me and You" continued to chart, they sold increasingly fewer copies, and after 1973, his overseas popularity essentially ceased altogether. At home, he notched his final Top 20 hit with 1975's "I Don't Love You But I Think I Like You," subsequently leaving MAM after a well-publicized dispute with Gordon Mills; returning to CBS, albums like 1977's Southpaw and 1980's Off Centre failed to find an audience, and outside of the minor hit "What's in a Kiss?" O'Sullivan disappeared from the charts. In 1982, he took Mills to court, ultimately winning back the master tapes to his recordings as well as the copyrights to his songs; in 1991, O'Sullivan was again victorious thanks to a judge's landmark ruling that rapper Biz Markie's unauthorized sample from "Alone Again (Naturally)" was in fact theft.
Regrettably, O'Sullivan's court appearances constituted his highest public profile during this period. After releasing the Graham Gouldman-produced Life & Rhymes in 1982, he did not issue another new LP until Frobisher Drive five years later. In the Key of G followed in 1989, and although none of these records made an impact on the charts they did appeal to the singer's small but fiercely devoted cult audience, much of it now centered in Japan; indeed, O'Sullivan's next three releases (1992's Rare Tracks, The Little Album, and 1993's Live in Japan, respectively) were initially issued only in Asian markets, and he performed live there regularly. O'Sullivan remained a prolific talent throughout the decade to follow, with subsequent LPs including 1993's Sounds of the Loop, 1994's By Larry, 1995's Every Song Has Its Play, and 1997's Singer Sowing Machine. O'Sullivan saw a spike in his popularity around 2004, when the Berry Vest Of Gilbert O'Sullivan reached 20 on the charts, but he otherwise played the cult who liked his 2007 set A Scruff At Heart, 2011's Gilbertville and the all-Latin Latin Ala G! in 2015. ---Jason Ankeny, allmusic.com
download (mp3 @320 kbs):
yandex mediafire ulozto cloudmailru