Chris De Burgh - Moonfleet & Other Stories (2010)
Chris De Burgh - Moonfleet & Other Stories (2010)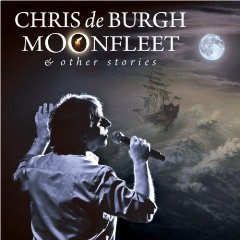 01. The Moonfleet Overture
02. The Village Of Moonfleet... (Narration)
03. The Light On The Bay
04. Have A Care
05. For Two Days And Nights... (Narration)
06. Go Where Your Heart Believes
07. The Escape
08. And So It Was... (Narration)
09. The Days Of Our Age
10. The Secret Of The Locket
11. With Heavy Heart... (Narration)
12. My Heart's Surrender
13. Treasure And Betrayal
14. Moonfleet Bay            play
15. The Storm                play
16. Greater Love
17. In The Years That Followed... (Narration)
18. The Moonfleet Finale

Other Stories:
19. Everywhere I Go
20. The Nightingale
21. One Life, One Love
22. Why Mona Lisa Smiled
23. Pure Joy
24. People of The World

Writing and recording his new album 'Moonfleet & Other Stories' took Chris de Burgh on the most ambitious, challenging and evocative journey of his long and successful career.
With sales of his albums now approaching 50 million worldwide, his unique, vivid slant on musical story-telling is already clearly established, but 'Moonfleet & Other Stories' raises the bar to unprecedented new heights. It's entirely appropriate to call 'Moonfleet & Others Stories' a tour de force, not merely since it comprises 20 original elements (including an orchestral overture), but because it's a fully-rounded and realised musical suite based on the book from which the album takes its name.
Yet while the piece – a sequence of songs threaded together by narration – concerns itself with a musical and lyrical interpretation of the classic work (a tale of 18th Century smuggling, treasure, friendship, love and loss) by English novelist J. Meade Falkner, elsewhere on the album Chris tackles an extraordinarily diverse and wide-ranging variety of topics. Leonardo da Vinci, the disappearance of childhood innocence, a short story by Oscar Wilde, a guardian angel, a war-time tale of 'what happened next' and, most topically and, perhaps, most emotionally, a statement about an atrocity in Iran during 2009, Chris has turned the full, sharp focus of his imagination upon them all.
'Moonfleet & Other Stories' is quite literally an epic, a collection of material driven by a desire to create music and lyrics that can become what Chris himself refers to as 'films in the mind.' His success in achieving precisely that can already be measured by approaches to make both a film and a stage musical based around his treatment of Meade Falkner's tale. On another level, several of the songs in the 'Moonfleet & Other Stories' saga stand up and connect entirely in their own right, taken out of their wider context.
download (mp3 @320 kbs):
yandex 4shared mega mediafire zalivalka cloudmailru uplea ge.tt
Zmieniony (Wtorek, 30 Sierpień 2016 10:50)