Nelly Furtado - The Greatest Hits (2009)
Nelly Furtado - The Greatest Hits (2009)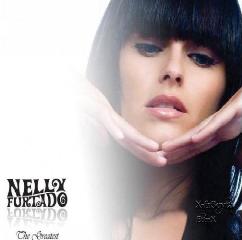 01- I'm Like A Bird
02- Maneater (Radio Edit)
03- Powerless (Say What You Want)
04- ....On The Radio (Remember The Days)
05- Promiscuous Feat. Timbaland (Radio Edit)
06- Te Busque Feat. Juanes (English Version)
07- Força (Radio Edit)
08- In God's Hands (UK Radio Mix)
09- Turn Off The Light
10- Do It Feat. Missy Elliott (Radio Edit)
11- Explode
12- Say It Right (Radio Edit)
13- Try
14- No Hay Igual Feat. Calle 13
15- All Good Things (Come To An End) (UK Radio Mix)
+
16- Runaway
17- What I Wanted
18- Undercover
19- Turn Off The Lights Remix Feat. Ms. Jade & Timbaland
20- Powerless (Say What You Want) (Remix By JoSH)

Born December 2, 1978 in Victoria, British Columbia to Portuguese parents, Nelly Furtado's heritage is important to her as a Grammy Award winning singer-songwriter, record producer, actress and instrumentalist. Furtado, who holds both Canadian and Portuguese citizenships, began singing when she was four, in Portuguese.
Furtado became interested in the music industry after being introduced to several Toronto-area underground rappers and DJs. After graduating high school, Furtado formed the group Nelstar, a trip hop duo, but left the group because she wanted to sing. She recorded a demo and got signed by DreamWorks records in 1999.
In 2000, with the release of her debut album Whoa, Nelly!, which featured her Grammy Award-winning single "I'm like a Bird," Furtado hit the big time. The album was an international success, and spawned two other hit singles, "Turn off the Light", and "...On the Radio (Remember the Days)". Furtado received four Grammy Award nominations for the record, and "I'm Like A Bird" won for Best Female Pop Vocal Performance.
Furtado has since transformed herself several times over. Furtado's second album, Folklore (2003), veered away from the more pop sound of her debut, and 2006's Loose veered even further, toward a more R&B, hip-hop influenced sound. Loose produced massive hits like "Promiscuous," "Maneater," and exhibited Furtado's passion for incorporating spontaneous creative choices and a variety of cultural and musical influences into her work. This album was produced by Timbaland, and critics praised what they saw as his revitalizing role in her music. Furtado has claimed that the birth of her daughter added new youth to her sound.
On September 20, 2003, Furtado gave birth to a daughter, Nevis, in Toronto. The father is DJ Jasper Gahunia. Gahunia and Furtado were together for four years and broke up in 2005. Furtado and Gahunia, who have remained good friends and raise their daughter together. Furtado is currently working on her fourth studio album. ---buddytv.com
download (mp3 @320 kbs):
yandex 4shared mega mediafire uloz.to cloudmailru
Zmieniony (Czwartek, 11 Maj 2017 09:05)