Procol Harum – Greatest Hits 1967-2003 (2011)
Procol Harum – Greatest Hits 1967-2003 (2011)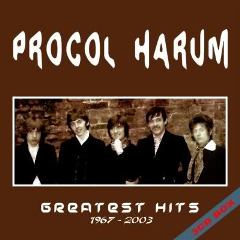 CD1
01. Beyond The Pale
02. An Old English Dream
03. Wizard Man
04. As Strong As Samson
05. Drunk Again
06. Eight Days A Week
07. The Hand That Rocks The Cradle
08. The Question
09. The Truth Won't Fade Away
10. The Blink Of An Eye
11. I Keep Forgetting
12. Pandora's Box				play
13. Every Dog Will Have His Day
14. Weisselklenzenacht
15. Fools Gold
16. Fellow Travellors
17. Fresh Fruit
18. Holding On
19. Memorial Drive

CD2
01. Learn To Fly
02. New Lamps for the Old
03. Monsieur R Monde
04. One More Time
05. Nothing But The Truth
06. Perpetual Motion
07. Roberts Box
08. Shadow Boxed
09. Something Magic
10. The Vip Room
11. This World Is Rich
12. Wall Street Blues
13. A Dream In Ev'ry Home
14. Without A Doubt
15. A Robe Of Silk
16. All Our Dreams Are Sold
17. The Final Thrust
18. A Whiter Shade Of Pale		play
19. Wish Me Well

CD3
01. Man With A Mission
02. Poor Mohammed
03. The Idol
04. (You Can't) Turn Back The Page
05. Toujours L'Amour
06. A Christmas Camel
07. The Mark Of The Claw
08. The Unquiet Zone
09. Typewriter Torment
10. Rambling On
11. Whaling Stories
12. Bringing Home The Bacon
13. Luskus Delph
14. Butterfly Boys
15. Conquistador			play
16. Pilgrim's Progress
17. Skip Softly (My Moonbeams)
18. Quite Rightly So

This soulful progressive rock band was originally formed in Essex, England following the demise of the R&B pop unit, the Paramounts. Coming together in spring 1967, Gary Brooker (29 May 1945, Hackney, London, England; piano/vocals), Matthew Fisher (b. 7 March 1946, Addiscombe, Croydon, Surrey, England; organ), Bobby Harrison (b. 22 June 1939, East Ham, London, England; drums), Ray Royer (b. 8 October 1945, the Pinewoods, Essex, England; guitar) and Dave Knights (b. David John Knights, 28 June 1945, Islington, London, England; bass) teamed up with lyricist Keith Reid (b. 19 October 1946, Welwyn Garden City, Hertfordshire, England), and made their debut with the ethereal 'A Whiter Shade Of Pale', one of the biggest successes of 1967. The single has now achieved classic status with continuing sales that now run to many millions. The long haunting Bach-influenced introduction takes the listener through a sequence of completely surreal lyrics, which epitomized the 'Summer Of Love'. 'We skipped the light fandango, turned cart-wheels across the floor, I was feeling kind of seasick, the crowd called out for more'.
By the time of their hastily thrown together debut album (only recorded in mono), the band was falling apart. Harrison and Royer departed to form Freedom and were immediately replaced with Brooker's former colleagues B.J. Wilson (b. Barrie James Wilson, 18 March 1947, Edmonton, London, England, d. 8 October 1990, Eugene, Oregon, USA) and Robin Trower (b. 9 March 1945, Catford, London, England), respectively. Nevertheless, the band enjoyed further success when 'Homburg' followed 'A Whiter Shade Of Pale' into the UK Top 10. The particularly strong third album A Salty Dog, with its classic John Player cigarette pack cover and lyrics that illustrated Reid's love for imaginary tales of seafaring, was released in 1969 to critical acclaim. The title track and 'The Devil Came From Kansas' were two of their finest songs.
Fisher and Knights departed in 1969, and the circle was completed when Chris Copping (b. 29 August 1945, Middleton, Lancashire, England; organ/bass) became the last remaining former member of the Paramounts to join. He made his recording debut on the following year's Home. On Broken Barricades (1971), in particular, Trower's Jimi Hendrix -influenced guitar patterns began to give the band a heavier image that was not compatible with Reid's introspective fantasy sagas. This was resolved by Trower's departure, to join Frankie Miller in Jude, and following the recruitment of Dave Ball (b. David Ball, 30 March 1950, Handsworth, Birmingham, Warwickshire, England) and the addition of Alan Cartwright (b. 10 October 1945, England; bass), the band pursued a more symphonic direction. The success of 1972's Live: In Concert With The Edmonton Symphony Orchestra was unexpected. It marked a surge in popularity, not seen since the band's early days. The album contained strong versions of 'Conquistador' and 'A Salty Dog', and was a Top 5, million-selling album in the USA.
Further line-up changes ensued with Ball departing and Mick Grabham (b. 22 January 1948, Sunderland, Tyne & Wear, England; ex-Cochise) joining in 1972. This line-up became their most stable and they enjoyed a successful and busy four years during which time they released three albums. Grand Hotel (1973) was the most rewarding, although both the following had strong moments. 'Nothing But The Truth' and 'The Idol' were high points of 1974's Exotic Birds And Fruit, while 'Pandora's Box' was the jewel on the following year's Procol's Ninth, giving the band another surprise hit single. Pete Solley (b. 19 October 1948, England) was then brought in to replace Copping, but by the time Something Magic was released in 1977 the musical climate had dramatically changed and Procol Harum were one of the first casualties of the punk and new wave movement. Having had a successful innings Gary Brooker initiated a farewell tour and Procol Harum quietly disappeared.
In August 1991, Brooker, Trower, Fisher and Reid got back together, with Mark Brzezicki (b. 21 June 1957, Slough, Buckinghamshire, England; ex-Big Country) replacing the recently deceased Wilson. Unlike many re-formed 'dinosaurs' the result was a well-received album The Prodigal Stranger, which achieved minimal sales. The revamped Procol Harum continued to perform throughout the decade, and in 2002 Brooker, Reid and Fisher returned to the studio to record a new album. Together with Brzezicki, Geoff Whitehorn (guitar) and Matt Pegg (bass), they released the excellent The Well's On Fire in 2003. Fisher's subseqeunt departure left Brooker as the sole remaining original performing member. The two men then became involved in an acrimonious dispute over the songwriting credits for 'A Whiter Shade Of Pale', with Fisher claiming co-writing copyright. In December 2006, he was awarded co-authorship and 40% of the copyright, but an appeal by Brooker resulted in him retaining full royalty rights. ---oldies.com
Procol Harum – brytyjska grupa rockowa grająca progresywny rock. Założona została we wczesnych latach sześćdziesiątych przez Garry'ego Brookera i Keitha Reida jako zespół grający rhythm and blues, pod wyraźnym wpływem amerykańskiego zespołu The Band. Grupa nigdy nie wyzbyła się swych korzeni i typowe dla R&B brzmienie towarzyszyło jej zawsze. Początkowo grali w lokalnych klubach repertuar taneczny. Przełomem było wydanie w 1967 pierwszego singla, który zawierał przebój A Whiter Shade of Pale (co na polski nieściśle przetłumaczono jako "Bielszy odcień bieli"). Od tego czasu zespół cieszył się niesłabnącą popularnością przez następne dziesięciolecie. "A Whiter Shade of Pale" był w istocie luźną rockową adaptacją "Arii na strunę G" Bacha. Kolejne przeboje były już w pełni autorstwa grupy, a w zasadzie spółki Brooker–Reid. Do najbardziej znanych należą: "Conquistador", "Shine on Brightly", "A Salty Dog", "Whisky Train", "Whaling Stories", "Simple Sister", "Grand Hotel", "Pandora's Box". Bogate brzmienie grupy oparte było na rozbudowanej sekcji instrumentów klawiszowych (Brooker, Fisher), melodyjnej gitarze, łagodniej grającej sekcji rytmicznej, czystym śpiewie Brookera oraz częstych orkiestrowych aranżacjach. Zespół, rozwinąwszy swe charakterystyczne, progresywne, a zarazem lekkie brzmienie, wypełnił lukę pomiędzy awangardą progresywnego rocka (Yes, King Crimson, ELP) a muzyką środka. Zespół występował kilkakrotnie w Polsce.
download (mp3 @ kbs):
yandex 4shared mega mediafire uloz.to cloudmailru
Zmieniony (Poniedziałek, 05 Czerwiec 2017 13:46)