Roxette - The 30 Biggest Hits XXX (2014)
Roxette - The 30 Biggest Hits XXX (2014)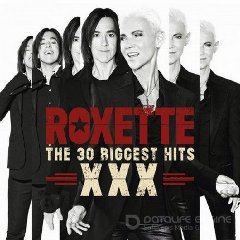 CD1
01. The Look
02. Dressed For Success (US Single Mix)
03. Dangerous (2003 Remastered Version)
04. It Must Have Been Love
05. How Do You Do!
06. Wish I Could Fly
07. Spending My Time
08. Almost Unreal
09. The Big L.
10. Fading Like A Flower (Every Time You Leave)
11. Crash! Boom! Bang! (Radio Edit)
12. June Afternoon
13. Queen Of Rain
14. Opportunity Nox
15. Perfect Day

CD2
01. Joyride (Single Version)
02. Sleeping In My Car (Single Version)
03. Listen To Your Heart (Swedish Single Edit)
04. Run To You (G.M. Remaster '03; 2003 Digital Remaster)
05. Real Sugar (G.M. Remaster '03; 2003 Digital Remaster)
06. Milk And Toast And Honey (Single Master)
07. Stars (G.M. Remaster '03; 2003 Digital Remaster)
08. Vulnerable
09. The Centre Of The Heart (G.M. Remaster '03; 2003 Digital Remaster)
10. A Thing About You
11. Anyone
12. You Don't Understand Me
13. She's Got Nothing On (But The Radio)
14. (Do You Get) Excited?
15. The Sweet Hello, The Sad Goodbye (Bassflow Remake)

The longest lasting and most successful pop group ever to come out of Scandinavia are making themselves ready to hit the road again.
We're talking about Roxette, of course—the dynamic duo consisting of Marie Fredriksson and Per Gessle, who's melodic songs with their irresistible hooks and soaring choruses spread like wildfire all over the world some 25 years ago. And guess what, the heat is still on.
Roxette The 30 Biggest HitsThe brand-new collection Roxette XXX – The 30 Biggest Hits is a testament to the band's incredible staying power. Two CDs with 30 songs, most of which can be heard over the airwaves just around the corner as well as on the other side of the planet, while you read this.
We're talking hits. Smashes. Global anthems. Out of the 30 songs handpicked for this album, 28 were released as singles. --- renownedforsound.com
download (mp3 @320 kbs):
yandex 4shared mega cloudmailru mediafire uloz.to
Zmieniony (Poniedziałek, 26 Czerwiec 2017 12:10)