Roxette - Charm School (Deluxe edition) [2011]
Roxette - Charm School (Deluxe edition) [2011]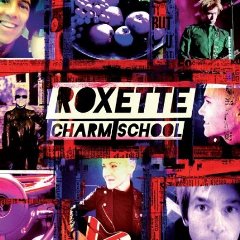 1. Way Out (02:45)
2. No One Makes It On Her Own (03:42)
3. She's Got Nothing On (But The Radio) (03:33)
4. Speak To Me (03:41)
5. I'm Glad You Called (02:48)
6. Only When I Dream (03:51)
7. Dream On (03:09)                                   play
8. Big Black Cadillac (03:05)
9. In My Own Way (03:30)
10. After All (03:15)
11. Happy On The Outside (03:37)
12. Sitting On The Top Of The World (03:55)
13. Dressed For Success (Live In St Petersburg 2010) (04:35)
14. Sleeping In My Car (Live In Stavanger 2010) (03:41)
15. Wish I Could Fly (Live St Petersburg 2010) (04:48)
16. 7twenty7 (Live In Halmstad 2010) (03:57)
17. Perfect Day (Live In St Petersburg 2010) (03:19)
18. Things Will Never Be The Same (Live In St Petersburg 2010) (03:00)      play
19. How Do You Do!/Dangerous (Live In Stavanger 2010) (06:55)
20. Silver Blue (Live In St Petersburg 2010) (05:10)
21. Joyride (Live In St Petersburg 2010) (04:27)
22. Listen To Your Heart (Live In St Petersburg 2010) (05:46)
23. The Look (Live In Halmstad 2010) (06:23)
24. Church Of Your Heart (Live In St Petersburg 2010) (04:05)

With a Hollywood-like sense of triumph over adversity, Roxette return with their first album since singer Marie Fredriksson was diagnosed with a brain tumour in 2002. She recovered, and the Swedish power-pop duo seems appropriately exhilarated.
Charm School is loaded with punchy, hook-riddled anthems that can only be described as absolute belters. From the opening surge of Way Out, a sonic sibling to Joan Jett's I Love Rock 'n' Roll only even bigger, louder and dumber, this album consummately achieves its goals and then some. Resisting this tide of taut melodies, ringing guitars and precise production would take some doing. Seeing the title of first single She's Got Nothing On (But the Radio), your brain thinks, "That's the most dreadful title since If I Said You Had a Beautiful Body Would You Hold It Against Me," but your inner pop kid responds like a panting puppy to its unpretentious Donna Summer's Love's Unkind-meets-Xenomania chops. If they ever re-make Flashdance, and let's face it we're all praying for that day, this would surely score the key scene.
After a quarter-century of global massiveness, 70 million albums sold, Roxette know their way around an ABBA-esque structure and a heavyweight arrangement from the university of Alone by Heart. Speak to Me is a mid-tempo synth-based bubbler with a seductive verse and gigantic chorus. It's more 80s than a Climie Fisher B side. No One Makes It on Her Own and In My Own Way take a breath and lurch toward sentimental balladry. Even so, it's admirable how Roxette own their genre. Throughout, Marie's vocals are rousing in a way that highlights how half-assed the current crop of teen Americans attempting this stuff are, and Per Gessle's songs are laser-guided – although it's a pity he occasionally sings, and has Limahl's hair. On Dream On he emulates some nifty Byrds guitars. Finale Sitting on Top of the World will have you raising your lighter aloft, at least until you realise everybody else is raising their smart-phones.
Roxette don't care if years have passed: they power on, a honed, determined joy machine. ---Chris Roberts, BBC Review
Istniejący od ćwierćwiecza światowej sławy duet z 70 milionami sprzedanych albumów na koncie, jedna z najsłynniejszych szwedzkich grup pop, powraca na scenę 10 lat po wydaniu ostatniej płyty studyjnej "Room Service". Nowy krążek zespołu "Charm School" zawiera 12 piosenek utrzymanych w stylu, który najtrafniej określić można jako klasyczne Roxette we współczesnym wydaniu, od otwierających album popowych fajerwerków "Way Out", po słodko-gorzką balladę "Sitting On Top Of The World" na koniec.
Najnowszą piosenką zespołu jest niezwykle przebojowy i energetyczny numer "She's Got Nothing On (But The Radio)". Ponadto na płycie znajdziemy wszystko, co uczyniło Roxette jedną z najczęściej granych w radio grup popowych świata: chwytliwe melodie, dynamiczne wykonanie, pełen humoru zmysł muzyczny i niepowtarzalne połączenie głosów Marie Fredriksson i Pera Gessle. A to wszystko w oprawie brzmieniowej godnej 2011 roku.
download (mp3 @VBR kbs):
yandex 4shared mega mediafire uloz.to cloudmailru
Zmieniony (Poniedziałek, 26 Czerwiec 2017 19:46)