Sinead O'Connor – I Do Not Want What I Haven't Got (2009)
Sinead O'Connor – I Do Not Want What I Haven't Got (2009)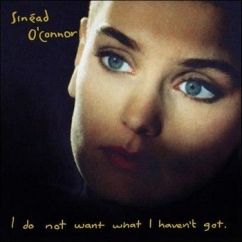 DISC 1: 
1. Feel So Different 6:48 
2. I Am Stretched On Your Grave 5:33 
3. Three Babies 4:46 
4. The Emperor's New Clothes 5:16 
5. Black Boys On Mopeds 3:54 
6. Nothing Compares 2 U 5:10 
7. Jump In The River 4:11 
8. You Cause As Much Sorrow 5:01 
9. The Last Day Of Our Acquaintance 4:41 
10. I Do Not Want What I Haven't Got 5:48 

DISC 2: 
1. Night Nurse (Previously Unreleased) 4:54 
2. My Special Child 4:48 
3. Damn Your Eyes 4:46 
4. Silent Night (Long Version) 4:44 
5. You Do Something To Me 2:34 
6. Mind Games (Previously Unreleased) 5:26 
7. What Do You Want 2:57 
8. I Am Stretched On Your Grave (Apple Brightness Mix) 5:36 
9. Troy (Recorded 'Live' In London) 6:41 
10. I Want Your Hands On Me (Live At Hammersmith Odeon) 3:52

I Do Not Want What I Haven't Got is the second album by Sinéad O'Connor. It was released in 1990 on Chrysalis Records.
The critically-acclaimed album contains her most famous single, "Nothing Compares 2 U", and was one of the best selling records in the world in 1990, topping the charts in many countries, including the US, UK, and Canada. The single "Emperor's New Clothes" found more moderate success, although it did top the Modern Rock Tracks chart in the US. The album includes O'Connor's rendition of "I Am Stretched on Your Grave", an anonymous 17th century poem, originally written in Irish and translated into English by Philip King. The first song, "Feels So Different", starts with The Serenity Prayer by Reinhold Niebuhr. The inner sleeve notes acknowledge Kabbalah teacher, Warren Kenton: "Special thanks to Selina Marshall + Warren Kenton for showing me that all I'd need was inside me."
In 2003, the album was ranked number 406 on Rolling Stone magazine's list of the 500 greatest albums of all time. In 2009, released of a deluxe anniversary edition of the album, with an extra CD of unreleased tracks, B-sides and hard-to-find mixes.
-----------------------------------------------------------------------------------
I Do Not Want What I Haven't Got – album irlandzkiej piosenkarki Sinéad O'Connor wydany w 1990 roku, zawierający jej najbardziej znany utwór "Nothing Compares 2 U". Płyta ta była jednym z najlepiej sprzedających się na świecie albumów wydanych w 1990 roku. Album w 1991 roku dostał 4 nominacje do Nagród Grammy zdobywając nagrodę w kategorii Best Alternative Music Album. O'Connor odmówiła przyjęcia nagrody.
download (mp3 @VBR kbs):
yandex 4shared mega mediafire uloz.to cloudmailru gett
Zmieniony (Poniedziałek, 31 Lipiec 2017 13:26)