Sinead O'Connor – Theology (2007)
Sinead O'Connor – Theology (2007)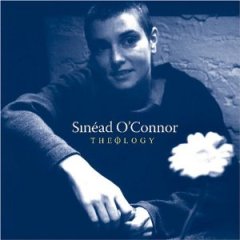 CD1 
01.01-Jeremiah 5:28 
02.06-We People Who Are Darker Than Blue 3:56 
03.03-Psalm 130 (out Of The Depths) 5:06 
04.10-Song Of Songs (Dark I Am Yet Lovely) 4:11 
05.08-Isaiah (If You Had A Vineyard) 6:17 
06.12-Job (Watcher Of Men) 2:34 
07.14-Psalm 33 2:33 
08.15-Samuel (the Glory Of Jah) 3:31                     play
09.17-Psalm 91 (Whomsoever Dwells) 2:53 
10.19-Psalm 137 (Rivers Of Babylon) 3:38 
11.21-Hosanna Filo David 0:44 

CD2 
01.02-Something Beautiful (Jeremiah) 5:15 
02.05-We People Who Are Darker Than Blue 2 4:24 
03.09-Out Of The Depths (Psalm 130) 5:03 
04.04-33 (Psalm 33) 2:43 
05.07-Dark I Am Yet Lovely (Song Of Songs) 3:30 
06.11-I Don't Know How To Love Him 4:13 
07.13-If You Had A Vineyard (Isaiah) 6:33 
08.16-The Glory Of Jah (Samuel) 4:56 
09.18-Watcher Of Men (Job) 3:18 
10.20-Whomsoever Dwells (Psalm 91) 5:34 
11.22-Rivers Of Babylon (Psalm 137) 4:28                 play

Remarkably, it's now 20 years since the snarling, glabrous-pated yet strangely beautiful Sinead O'Connor first emerged with her passionate and eclectic debut album The Lion And The Cobra before going on to achieve worldwide fame three years later thanks to an unforgettable version of Prince's ''Nothing Compares 2 U''.
After this early career peak, O'Connor has attracted more headlines for her frequently provocative and occasionally bizarre opinions than for her music, which has remained frustratingly inconsistent for a decade or more.
Following typically wilful departures into traditional Gaelic and reggae covers on her last two collections, the singer is back with a double album of mostly original compositions, featuring acoustic and full band versions of the same core songs. After famously tearing up a photograph of Pope John Paul II live on U.S. television, it now seems Sinead has got religion in a big way, and a theme of spiritual contentment is palpable throughout Theology.
Described by the artist as 'an attempt to create a place of peace in a time of war' in response to the tragedy of 9/11 and its subsequent impact upon the world, it's clear that O'Connor is still keen to tackle big subjects, albeit in a far less confrontational manner than of old. The hair has been allowed to grow to a neat French crop, the scowling has faded but what's worrying is the way this new-found maturity has been allowed to dull the edge of her music.
Of the two discs, the Dublin Sessions, featuring O'Connor alone with just a guitar accompaniment, fares better. Some strong new songs, notably the warm, tender lullaby ''Dark I Am Yet Lovely'' and the defiant yet vulnerable ''If You Had A Vineyard'', work well in a stripped down setting, allowing O'Connor to show off her achingly lovely voice to best effect.
London Sessions, with a full band added to flesh out the original versions, is a major disappointment - mannered, dated and over-produced soft rock which at times lurches perilously close to sounding like a Celtic-tinged Dido. Even the better tracks from Dublin Sessions succumb to the ubiquitous blandness that O'Connor has allowed to dominate the record, while some limp covers, including ''I Don't Know How To Love Him'' from the musical Jesus Christ Superstar and an inexplicable reworking of Boney M's ''Rivers Of Babylon'' have a similar impact to walking past a pub hosting an adequate karaoke night.
O'Connor is a singer with the range and emotional intensity to rank with the best, but Theology is stark evidence that she continues to lack the direction and quality control required to rediscover the critical and commercial success of her early work. ---Chris White, BBC Review
Sinéad O'Connor już dawno zapracowała na opinię ekscentryczki. Od początku kariery niepokorną Irlandkę otaczała aura kontrowersji. Jednak jej trudne do zaakceptowania zachowanie - prowokacyjne wypowiedzi i nietypowe manifestacje religijności - usprawiedliwiał zawsze jej przesycony uczuciem, nie mający sobie równych głos.
Z wydanym niedawno albumem "Theology" wiązałam duże nadzieje... które bardzo szybko zostały zawiedzione. Na wydawnictwo złożyły się dwa krążki przedstawiające odmienne wersje tych samych utworów. Nazwana "Dublin Sessions" płyta zawiera kompozycje surowe, zaśpiewane jedynie przy akompaniamencie gitary. Na "London Sessions" składają się kompletne aranżacje utworów.
Pomysł mógłby wydawać się interesujący, jednak tylko pod warunkiem, że utwory niosą ze sobą odpowiednią wartość. Sęk jednak w tym, że umieszczone na "Dublin Sessions" nagrania ledwie zasługują na miano "kompozycji". Jest to raczej zbiór smutnych melorecytacji ilustrujących z pewnością bogate - lecz trudno zrozumiałe - życie religijne nieco... zdziwaczałej artystki.
Włączając drugi krążek miałam nadzieję, że instrumentalne aranżacje nadadzą utworom kształtu. Niestety, nawet w wyszlifowanej formie piosenki są mdłe i nudne. Do wyjątków należeć mogą oparty na rytmicznej linii basu "We People Who Are Darker Than Blue" i niemal taneczne "33", którym jednak bardzo daleko do co jaśniejszych fragmentów twórczości Sinéad.
Słuchając płyt odnieść można wrażenie, że sama muzyka nie ma na "Theology" najmniejszego znaczenia. Jedyne, co jest istotne dla wokalistki to jej duchowe przeżycia, którymi nieudolnie próbuje się podzielić ze słuchaczami.
Cały album zrobił na mnie smutne, niepokojące wrażenie. Poczułam się, jakbym słuchała małej dziewczynki na poczekaniu układającej nucone pod nosem piosenki, a nie artystki, która swego czasu uchodziła na jedną z najoryginalniejszych wokalistek na świecie. Sinéad O'Connor objawiła mi się jako zagubiona kobieta, usiłująca za wszelką cenę udowodnić sobie i światu, że bogate życie duchowe nadaje sens jej egzystencji.
Zadeklarowani fani ekscentrycznej Irlandki pewnie zechcą mieć "Theology" w płytotece. Jednak po nastrojowym jamajskim "Throw Down Your Arms" wydanym w zeszłym roku, nowy album prezentuje się przygnębiająco i nijako. ---Tylda Ciołkosz, muzyka.wp.pl
download (mp3 @VBR kbs):
yandex 4shared mega mediafire uloz.to cloudmailru gett
Zmieniony (Poniedziałek, 31 Lipiec 2017 14:04)