Natalia Kills - Perfectionist (2011)
Natalia Kills - Perfectionist (2011)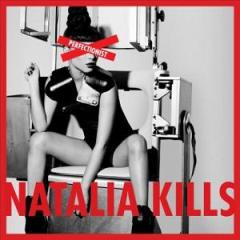 01. Perfection 00:33 
02. Wonderland 03:32 
03. Free 03:58 
04. Break You Hard 04:22 
05. Zombie 03:19 
06. Love Is A Suicide 03:57 	play
07. Mirrors 03:17 				play
08. Not In Love 03:23 
09. Acid Annie 03:38 
10. Superficial 03:20 
11. Broke 04:09 
12. Heaven 04:50 
13. Nothing Lasts Forever Featuring Billy Kraven 03:31 
14. If I Was God 04:44

Dr. Orton 	Voices
Robert Horn 	Guitar
Zach Kasik 	Guitar
Carlos Keery-Fisher 	Guitar
Martin Kierszenbaum 	Instrumentation, Producer, Vocal Producer, Vocals (Background)
Natalia Kills 	Composer, Primary Artist
Billy Kraven 	Featured Artist
Christopher Simila 	Vocals (Background)
Kristle Simila 	Vocals (Background)
Giorgio Tuinfort 	Instrumentation, Producer

Britain's latest export Natalia Kills has a few things to say about love, money, and zombies. Her debut album, Perfectionist, marks the rise of Kills' brand of pop: a healthy mix of Gaga and Rihanna, garnished with the beats of Britney's best. She doesn't vary from that promising pop formula, making her music far from groundbreaking. That said, her music does what pop does best: It makes you dance and doesn't beg you to think. Not all the songs on Perfectionist hit their mark (ironic given the album's title), but the four standout tracks – "Wonderland", "Mirrors", "Break Your Heart", and "Zombie" – promise to be hits.
The videos to "Wonderland" and "Mirrors" are a reliable basis for the Gaga comparisons, given their imagination, symbolism, and artistic notes. "Wonderland" denotes the pop perfection Kills was aiming for, complete with whimsical and fun lyrics ("Who needs true love/As long as you love me truly?", "Will you wake me up boy/If I bite your poison apple?") and a catchy, original chorus. Outfitted with stilettos whose heels resemble a human spine, Kills entrances in the "Wonderland" video. It's filled with scenes of police beating women who are dressed up as rabbits (the images of frailty and of this "wonderland" she has constructed), a constant bombardment of propagandist, subliminal messages, and a beheading at the end to represent her disconnection with reality. Her video combines fashion, creative directing, and layers of symbolism related to surveillance and censorship, and perhaps even represents the outlandish cry of a woman who grew up in Britain's arguably oppressive culture.
"Mirrors" explores similar themes, such as the duplicity of identity, hubris, and objectification. These are deeper, more relatable subjects than those covered in some of Kills' other tracks, with "Free" and "Superficial" relating only to the whims of Kills' credit card and consumptive impulses. She may be trying to be ironic, but the way she speaks about money instead comes off as tasteless and is surprising compared to the quality of the rest of her work.
Just like the biggest pop stars before her, Kills doesn't rest on her laurels or let the album speak for her by itself. Her real artistic mode of expression lies in the visual. She is a performer, choosing to evoke and tempt the masses through the shock value of her videos and live shows. And with more work like "Wonderland", Kills promises to become an enduring international staple. ---Summer Dunsmore
Debiutancki album Natalii Kills – brytyjskiej piosenkarki i autorki. Przy pracy nad krążkiem "Perfectionist" pomagali jej tacy producenci jak Fernando Garibay (U2, Snoop Dogg, Britney Spears), Jeff Bhasker (Kanye West, Jay-Z, Alicia Keys), Ron "Neffu" Feemster (Dr Dre, Michael Jackson), Akon oraz Martin "Cherry Cherry Boom Boom" Kierszenbaum (który współpracował z Lady Gagą, t.A.T.u., Frankmusik oraz Far East Movement). Pomijając tak imponującą listę współpracowników, to sama Natalia nadała ostateczny kształt utworom, które znalazły się na jej debiutanckim albumie. "Dobry producent znajdzie sposób, by wydobyć z artysty to, co najlepsze" - mówi Natalia. - "Nie narzuca ci swojego brzmienia, ale pomaga wydobyć twoje własne. Jeśli chodzi o muzyczne pomysły, "Perfectionist" to zdecydowanie wspólne przedsięwzięcie". "Podoba mi się muzyka, którą kiedyś grały stacje radiowe – bardzo bezpośrednia, dzika i ekspresyjna" - mówi Natalia. - "Nie z rodzaju "kocham cię skarbie" albo "imprezujmy przez całą noc". Kiedyś artyści nie bali się powiedzieć tego co naprawdę czuli. Na przykład Queen w "Love Kills". To niezwykle istotne, by mieć odwagę i manifestować ją w swojej muzyce, bo jeśli w tej dziedzinie brak ci odwagi, to w każdej innej również." --- universalmusic.pl
download (mp3 @320 kbs):
yandex 4shared mega mediafire uloz.to cloudmailru
Zmieniony (Niedziela, 07 Maj 2017 10:57)