Jason Donovan - Between The Lines 1990 (2010 Deluxe 2CD Edition)
Jason Donovan - Between The Lines 1990 (2010 Deluxe 2CD Edition)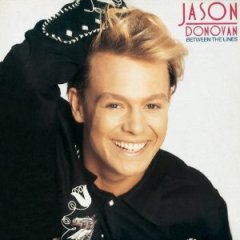 1. When You Come Back To Me
2. Hang On To Your Love		play
3. Another Night
4. Love Would Find A Way
5. Rhythm Of The Rain
6. I'm Doing Fine
7. Careless Talk And Silly Lies
8. When It's All Over
9. Like It Was Yesterday		play
10. Hard To Say It's Over
Bonus Tracks:
11. R.S.V.P.
12. Happy Together
13. A Fool Such As I
14. Story Of My Life
15. When I Get You Alone
16. She's In Love With You
17. Hang On To Your Love (Extended Version)
18. Another Night (Sweet Dreams Mix)
19. I'm Doing Fine (Extended Version)
20. Rhythm Of The Rain (Spanish Version)
21. When You Come Back To Me (Yuletide Sleigh List Mix)

CD2

1. When You Come Back To Me (Extended Version)
2. Rhythm Of The Rain (Extended Version)
3. Story Of My Life (Extended Version)
4. R.S.V.P. (Extended Version)
5. Happy Together (Extended Version)
6. She's In Love With You (Extended Version)
7. When You Come Back To Me ([No Probs Mix)
8. Another Night (The JD In Dub Mix)
9. Rhythm Of The Rain (Kick That... Remix)
10. When You Come Back To Me (Original Mix)		play
11. Hang On To Your Love (Instrumental)
12. Another Night (7" Instrumental)
13. Rhythm Of The Rain(Instrumental)
14. I'm Doing Fine (7" Instrumental)
15. RSVP (Instrumental)
16. Happy Together (Instrumental)
17. When You Come Back To Me (Guitar Instrumental)

Perhaps this Deluxe Edition of Jason's second album is a bit of an overkill but I, for one, will be happy to include this in my cd collection.
Jason Donovan goes all the way back to my teenage years and his Greatest Hits album got quite a spin in my player. He's not the best vocalist around nor is his music all that great but it's quite a time capsule for more innocent and care-free times. In the early 90's Jason was considered neither hip nor cool and he was more of a chick's dude so those of us who dug him kept relatively quiet. But this "fluffy" pop has endured quite well and the music ain't too bad at all and one doesn't need to lower his head in shame in admitting fondness for Jason's music.
A particular favorite here is "Another Night", an overly dramatic tale of a guy who's broken up with his girlfriend and, quite simply, can't face another night without her. Aaaahhh, those years when you thought a certain girl didn't like you and it was the end of the world :), well, the song instantly takes me back to a certain crush in high shcool.
Other than that, all the songs on "Between the Lines" are pure pop and they're pretty good. Songs like "When you come back to me", "Hang on to your love", "When it's all over" and "Like it was Yesterday" are fun songs but they definately have a cheese factor about them. But that's part of their appeal.
As a juicy extra here you get B-sides and a ton of remixes which should be fun to give a spin. Now my suggestion is they next give Jason's least known album, "All Around the World" a deluxe treatment. I believe there were a few B-sides there as well as some quality alternate mixes of pretty good songs. ---O.B. Tryggvasen
Jason's second album 'Between The Lines' was again produced by Stock Aitken Waterman and was issued on Pete Waterman's label PWL in June 1990. The album peaked at number 2 and stayed in the album chart for six months. The album was preceded by the # 2 hit 'When You Come Back To Me' and # 8 hit 'Hang On To Your Love', and was followed by 'Another Night', 'Rhythm Of The Rain' 'I'm Doing Fine', 'RSVP' and 'Happy Together'. This Deluxe 2 CD Edition contains the original ten-track album, as well as an amazing 28 bonus tracks! Gathered together for the first time ever by PWL consultant Tom Parker, there are non-album b-sides, extended 12' versions, dub mixes, and instrumentals, several of which have only ever been available as downloads. All this adds up to over 157 minutes of Jason Donovan!
download (mp3 @320 kbs):
yandex 4shared mega mediafire uloz.to cloudmailru uptobox
Zmieniony (Czwartek, 16 Luty 2017 15:30)