Katie Herzig – The Waking Sleep (2011)
Katie Herzig – The Waking Sleep (2011)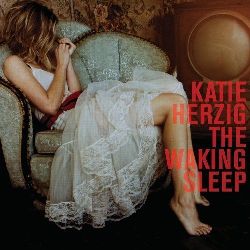 01 – Free My Mind				play
02 – Make A Noise
03 – Way To The Future
04 – Best Day Of Your Life
05 – Wasting Time
06 – Midnight Serenade			play
07 – Oh My Darlin'
08 – Closest I Get
09 – The Waking Sleep
10 – Lost And Found
11 – Daisies And Pews

Katheryne Lee Herzig born in California, United States, March 6, 1980.
In 2004, Herzig released her first solo album, Watch Them Fall. The title track was featured on the WB television show Smallville. Another song, "Say Goodbye" appeared in the 2007 film, X's & O's. In 2006, she released a second solo album, Weightless which she recorded using Pro Tools and instruments that she borrowed from friends. She co-wrote one track from the album with Kim Richey, "Jack and Jill". It was also featured on an episode of One Tree Hill and Pretty Little Liars. Two tracks from the album "Fool's Gold" and "Sweeter than This" were featured on Grey's Anatomy. Her song "Where the Road Meets the Sun" was featured on the Season 5 finale of Grey's Anatomy. The song "Wish You Well" was featured in the sixth season of Grey's Anatomy and in the first season of Pretty Little Liars. "Lost & Found" was featured in the third episode of the eighth season of "Grey's Anatomy."
After the release of Weightless, Herzig moved to Nashville, Tennessee to further pursue her solo career. She then toured with the Fray and as a member of the Paste Songwriters Tour.
On May 18, 2008 Herzig released a new album Apple Tree, which is so named because the title is mentioned in three different songs on the album. She has since appeared on the KCRW radio program, Morning Becomes Eclectic and joined American Songwriter magazine's Ten Out of Tenn tour. On September 18, the song "I Hurt Too" from Apple Tree was featured on the police procedural television drama Bones. "How the West Was Won", also from Apple Tree, plays over the closing credits of HBO's Bored to Death episode, "The Case of the Grievous Clerical Error!". She also appeared in the 2008 independent documentary film, A Nashville State of Mind. 'Forevermore' is featured on Australian TV in supermarket store Target's 2010 ad campaign. Herzig's 2009 single "Hey Na Na" was used on the pilot episode of the Lifetime series: Drop Dead Diva. It was also used in "Going the Distance" starring Drew Barrymore and Justin Long. ---wikipedia
Katie Herzig has steadily become a fixture in Nashville's up-and-coming indie music scene. She's spent the last few years touring the US, sharing the stage with artists like Brandi Carlile and The Fray and been a part of the Ten Out of Tenn and Hotel Cafe tours. In 2008, after her song "Heaven's My Home" was nominated for a Grammy, Katie was featured in Billboard Magazine's "Now Hear This" as well as one of PASTE Magazine's 25 "Best of What's Next" Artists. Her songs have been featured on NPR, KCRW's Morning becomes Eclectic and several tv/films including Grey's Anatomy, Pretty Little Liars, Going the Distance, and most recently a Target commercial in the US. She continues to out-do herself with each new musical endeavor. Her last record "Apple Tree" was a spellbinding, uniquely immersive listening experience that manages to be at once playful and impassioned—challenging and comfortable—-intimate and epic…which is exactly what listeners have come to expect of Katie Herzig. ---last.fm
Katie Herzig to piosenkarka z Nashville, Tennessee (USA). Urodziła się w muzykalnej rodzinie w Kalifornii. Kiedy miała rok jej rodzina przeniosła się Fort Collins, gdzie Katie uczęszczała do Rocky Mountain High School. Kiedy była w ostatniej klasie liceum, dostała od ojca gitarę. W 2000 roku ukończyła University of Colorado at Boulder (na kierunku dziennikarstwo). Jeszcze na studiach założyła zespół Newcomers Home (razem z Timem i Laurie Thornton oraz Andrew Jed'em). Katie miała jednak problemy z występami scenicznymi i przeważnie śpiewała w chórkach oraz grała na perkusji. Dopiero po jakimś czasie zaczęła śpiewać i grać na gitarze. Zespół rozpadł się w 2006 roku.
W 2004 roku wydala pierwszą płytę Watch Them Fall. Tytułowa piosenka z jej pierwszego albumu została wykorzystana w serialu telewizyjnym Smallville. Na ścieżce dźwiękowej do filmu X's & O's pojawia się piosenka "Say Goodbye". W 2006 roku wydała drugą płytę, Weightless (którą nagrała dzięki pomocy przyjaciół, którzy pożyczyli jej potrzebny sprzęt i instrumenty). Kolejne dwie piosenki Katie ("Fool's Gold" i "Sweeter than This") zostały wykorzystane w serialu Grey's Anatomy. 18 maja 2008 roku światło dzienne ujrzał jej trzeci album - Apple Tree. Piosenka "I Hurt Too" została wykorzystana w jednym z odcinków serialu Bones. Piosenka "Heaven's My Home" (którą napisała razem z Ruby Amanfu, a którą wykonywali The Duhks) została nominowana do nagrody Grammy w 2007 ( Best Country Performance). ---last.fm
download (mp3 @256 kbs):
yandex 4shared mega mediafire uloz.to cloudmailru uptobox ge.tt
Zmieniony (Niedziela, 05 Marzec 2017 09:26)