Elissa - Tesada' Bemeen 2009
Elissa - Tesada' Bemeen 2009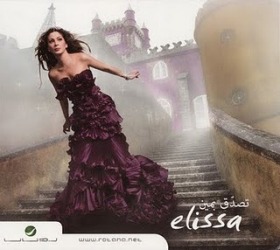 1-Tesada'a Bemeen - Who Do You Believe In.
2-Aa Bali Habibi - I Want To, Darlingi.
3-Min Gheir Mounsba - For No Reason.
4-Amir La Rabbi - I Leav It To God.
5-Fi Shi Nkasar - Somthing Broker.
6-Ma'ash Walakan - Nothing Can.
7-Sallimli Aleh - Say Hello From Me.
8-Law Feye - If Only I Could.
9-Eftakart - I Remembered.
10-W Byestehi - My Darling Is Shy.
11-a Ta'rafchi Lei - You Don't Know Why.
12-Aisha Welsalam - Careless Life.
13-Masdoma - I Am Shocked.

Elissar Zakaria Khoury (born in Deir el Ahmar, Lebanon on October 27, 1972) simply known as Elissa is a Lebanese singer. She is known for her collaborations with well-known Arab and international artists, notably Ragheb Alama, Cheb Mami, Fadl Shaker, Chris DeBurgh and Gypsy Kings.
Born to a Lebanese father (Zakaria Khoury) and a Syrian mother (Youmna Suud), her debut was in 1992 in Studio El Fan, a popular music competition where she won a silver medal. Her debut album in 1999 was Baddi Doub on EMI followed by W'akherta Ma'ak and Ayshalak. In 2004 she signed with the major pan-Arab label Rotana Records, with Ahla Donya being the debut on the new label, followed by Bastanak, Ayami Beek and Tsadaq Bmein. Elissa is working on her 8th album set for release in 2011 on the Eid El Adha holiday.