The Maddox Brothers & Rose - Their Original first Recordings vol.1 (1946-1951)
The Maddox Brothers & Rose - Their Original first Recordings vol.1 (1946-1951)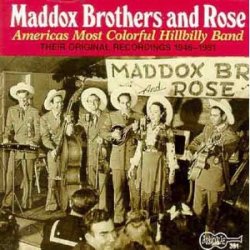 1	George's Playhouse Boogie 2:45
2	Midnight Train 3:05
3	Shimmy Shakin' Daddy 2:11
4	Careless Driver 2:49
5	Move It On Over 2:46
6	Whoa, Sailor 2:36
7	Milk Cow Blues 3:10
8	Mean And Wicked Boogie 2:39	
9	Brown Eyes 2:58
10	Honky Tonkin' 1:58							play
11	Time Nor Tide 3:09
12	New Mule Skinner Blues 2:59
13	Philadelphia Lawyer 3:15
14	Sally Let Your Bangs Hang Down 2:18			play
15	When I Lay My Burden Down 2:16
16	Hangover Blues 2:37
17	Water Baby Boogie 2:09
18	Dark As A Dungeon
19	Mule Train 2:56	 
20	Oklahoma Sweetheart Sally Ann 2:15
21	Faded Love 2:41
22	New Step It up and Go 2:33
23	(Pay Me) Alimony 
24	I Wish I Was A Single Girl Again 2:13
25	Your Love Light Never Shone 2:02
26	Meanest Man In Town 2:42
27	I Want to Live and Love 2:05

Personnel: 
Cal Maddox (vocals, guitar, harmonica); 
Don Maddox (vocals, violin, fiddle);
Fred Maddox, Rose Maddox (vocals); 
Henry Maddox (guitar, mandolin); 
Jimmy Winkle, Roy Nichols, Gene Breeden (guitar); 
Bud Duncan (acoustic guitar, steel guitar); 
Cliff Maddox (mandolin).

The Maddox Brothers & Rose were America's most colorful hillbilly band all right, and not just because they wore snazzy sequined Western suits that screamed louder than a blast of TNT. Everything they did was at the top of their lungs, from sister Rose's effectively braying twang and tittering, high-pitched asides to the brothers' nuclear-charged postwar fusion of boogie-woogie, Western swing, and California honky-tonk. Most colorful of all was the group's aesthetic--unabashed emotionalism on a poignant gospel ballad such as "When I Lay My Burden Down" alternating with broad comedy displayed on covers of "Milk Cow Blues" and "Honky Tonkin'." "Got a hillbilly band called Maddox and Rose ... [and] they play a boogie-woogie that'll wiggle your toes," Rose guffaws on "George's Playhouse Boogie." Never has such a colorful self-description been so accurate. ---David Cantwell
I caught onto The Maddox Bros & Rose several years ago through old 78rpm records. Not being a big country fan, I was immediately taken by this band's candor. They just sounded like they had so much fun making these recordings that I couldn't stop listening to them. It turned me onto other country music from this same period.
This CD catches all the best highlights of the band's output on the 4-Star label. This catches the Maddox Bros & Rose at the top of their success and the music and hyjinxs just flow. It makes you long to see this band in person during those days.
They were very loud, very strong, very confidant. People who saw The Maddox Bros & Rose said you never knew what they were going to do and that Rose Maddox would do anything for a laugh. Great solid rocking beat with a hint of what was to come in rock and roll. Bill Haley and the Comets adapted the rhythm of the Maddox Bros & Rose and went on to great success.
The Maddox Bros. & Rose never made it to super country wide stardom only appearing on the Grand Ole Opry once and almost didn't make it then. The were California's super stars! To hear the country music scene of the late 1940's and early 1950's one must have this CD in their collection. You won't be sorry. Your speakers will smoke! --- R. Gray "Jukemaster" (Tullahoma, TN)
download (mp3 @192 kbs):
yandex 4shared mega mediafire uloz.to cloudmailru uptobox ge.tt
Zmieniony (Niedziela, 09 Kwiecień 2017 20:25)