Julie Fowlis – Gach Sgeul (Every Story) (2014)
Julie Fowlis – Gach Sgeul (Every Story) (2014)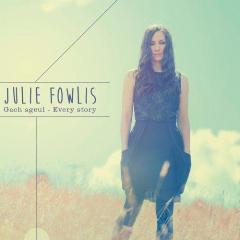 1. A Ghaoil, Leig Dhachaigh Gum Mhathair Mi (Love, Let Me Home to My Mother)
2. Danns' A Luideagan Odhar (Dance Dun-Coloured Slattern)
3. An Roghain Dain Do Eimhir Xxii (The Choice)
4. Smeorach Chlann Domhnaill (The Mavis of Clan Donald)
5. Do Chalum (To Calum)
6. Cadal Ciarach Mo Luran (Sleep Well My Beloved)
7. Puirt-A-Beul Set: Ribinnean Riomhach (Beautiful Ribbons)
8. Oran Fir Heisgeir (Gura Mis' Tha Fo Mhighean) (The Song of Fear Heisgeir)
9. Siud Thu 'Ille Ruaidh Ghallain (There You Go, Handsome Red-Haired Youth)
10. Puirt-A-Buel Set: Fodor Dha Na Gamhna Beaga (Fodder for the Small Stirks)
11. An Ron (The Seal) / Ann An Caolas Od Odram (In the Narrow of Od Odram)

Julie Fowlis (vocals); 
Tony Byrne (guitar); 
Éamon Doorley (bouzouki); 
Duncan Chisholm (fiddle); 
Ro Rowan (cello); 
Michael McGoldrick (Uilleann pipe); 
Donald Shaw (harmonium); 
Ewen Vernal (double bass); 
Iain Sandilands (percussion).

Julie Fowlis's ascent to international stardom, putting Gaelic folk on the world music map, is evidence that a sublime voice transcends language and culture. This fourth studio album returns to her Hebridean home of North Uist (pop 1,254), its dozen songs including lullabies,Victorian poems, antique "mouth music" and folk tales of shape-shifting seals. There are a few jigs and reels, but the songs are the primary force, delivered in a voice as pure and elemental as a Hebridean seashore. The accompaniment, overseen by her partner, Eamon Doorley, is immaculate, especially the fiddles of folk quartet Rant on the touching lament Do Chalum. A bare but lovely creation. --- Neil Spencer, theguardian.com
download:  yandex 4shared mediafire mega
Zmieniony (Niedziela, 26 Luty 2017 20:01)