ABBA – Collected (2011)
ABBA – Collected (2011)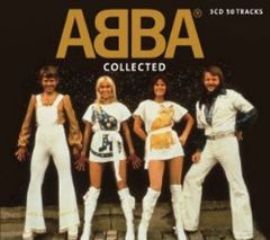 CD1:
01 – Ring Ring (English Version)
02 – People Need Love
03 – Love Isn't Easy (But It Sure Is Hard Enough)
04 – She's My Kind Of Girl
05 – Waterloo (English Version)
06 – Honey, Honey
07 – Dance (While The Music Still Goes On)
08 – Sitting In The Palmtree
09 – So Long
10 – Crazy World
11 – I've Been Waiting For You
12 – I Do, I Do, I Do, I Do, I Do			play
13 – S.O.S.
14 – Mamma Mia
15 – Medley Pick A Bale Of Cotton On Top Of Old Smokey Midnight Special
16 – Fernando
17 – Dancing Queen

CD2:
01 – Money, Money, Money
02 – When I Kissed The Teacher
03 – Happy Hawaii
04 – Knowing Me, Knowing You
05 – The Name Of The Game
06 – Hole In Your Soul
07 – I'm A Marionette
08 – Lovelight
09 – Take A Chance On Me
10 – Eagle
11 – Thank You For The Music
12 – Summer Night City
13 – Chiquitita				play
14 – Does Your Mother Know
15 – Voulez-Vous
16 – Gimme! Gimme! Gimme! (A Man After Midnight)

CD3:
01 – I Have A Dream
02 – Angel Eyes
03 – The Winner Takes It All
04 – Super Trouper				play
05 – Happy New Year
06 – The Piper
07 – On And On And On
08 – Our Last Summer
09 – Elaine
10 – Put On Your White Sombrero
11 – One Of Us
12 – Head Over Heels
13 – The Day Before You Came
14 – Under Attack
15 – When All Is Said And Done
16 – You Owe Me One
17 – I Let The Music Speak

ABBA was a Swedish pop group formed in Stockholm in 1972 which consisted of Anni-Frid "Frida" Lyngstad, Björn Ulvaeus, Benny Andersson and Agnetha Fältskog. They became one of the most commercially successful acts in the history of pop music, topping the charts worldwide from 1972 to 1982. ABBA sold over 375 million records worldwide, which made them the fourth best-selling popular music artists in the history of recorded music. They still sell between two to three million albums a year. ABBA was the first pop group to come from a non-English-speaking country that enjoyed consistent success in the charts of English-speaking countries, including the UK, the U.S., Canada, Ireland, South Africa, Australia and New Zealand. Apart from reaching the top of the charts in different countries like Mexico, Argentina, Brazil, Colombia and Peru among others, ABBA also released a compilation of their hit songs in Spanish.
During the band's existence, Fältskog and Ulvaeus were a married couple, as were Lyngstad and Andersson–although both couples later divorced. At the height of their popularity, both relationships were suffering strain which led ultimately to the collapse of the Ulvaeus-Fältskog marriage (in 1979) and the Andersson-Lyngstad marriage (in 1981). In the late 1970s and early 1980s these relationship changes began appearing in the group's music, as they produced more introspective lyrics with different compositions.
After ABBA broke up early 1983, Andersson and Ulvaeus achieved success writing music for the stage while Lyngstad and Fältskog pursued individual solo careers with varying success. ABBA's music declined in popularity until several films, notably Muriel's Wedding and The Adventures of Priscilla, Queen of the Desert, revived interest in the group, spawning several tribute bands. In 1999, ABBA's music was adapted into the successful musical Mamma Mia! that toured worldwide. A film of the same name released in 2008 became the highest grossing film in the UK that year. The group was inducted into The Rock and Roll Hall of Fame on 15 March 2010.
ABBA – szwedzki zespół muzyki pop, w skład którego wchodzili: Anni-Frid Lyngstad, Benny Andersson, Björn Ulvaeus i Agnetha Fältskog. Jego działalność muzyczna przypada na lata siedemdziesiąte i początek lat osiemdziesiątych. Nazwa "ABBA", przyjęta w 1973 r., jest akronimem utworzonym z pierwszych liter imion członków zespołu (Agnetha, Benny, Björn, Anni-Frid). Zespół tworzyły dwa małżeństwa: Agnethy i Björna oraz Anni-Frid z Bennym. ABBA uważana jest za jeden z najlepszych muzycznych zespołów XX wieku. Zespół sprzedał ponad 370 milionów płyt na całym świecie, co czyni go jedną z najbardziej kasowych grup w dziejach.
ABBA zyskała międzynarodową popularność dzięki chwytliwym utworom z prostymi tekstami. Wraz ze wzrostem ich popularności dostawali coraz więcej propozycji koncertowych, co wiązało się ze wzrostem rzeszy fanów w: Europie, Australii, Ameryce Północnej. Podróżowanie stało się sporym problemem, szczególnie z powodu Agnethy Fältskog, która bała się latania i dodatkowo nie chciała opuszczać na zbyt długo swoich dzieci. Z tego powodu menadżer zespołu położył spory nacisk na kręcenie teledysków. Zespół kontynuował również wydawanie studyjnych albumów. Wraz ze wzrostem popularności zespołu, małżeństwa członków zespołu (Benny z Fridą i Björn z Agnethą) zostały zaniedbane, a relacje pomiędzy członkami zespołu zmieniły się. Efekt jest zauważalny w kompozycji muzyki i w twórczych tekstach utworów.
W 1976, podczas jedynego pobytu w Polsce, zespół nagrał w TVP program telewizyjny "ABBA w Studio 2", który wyemitowano 13 listopada. 5 lipca 2008 zespół w pełnym składzie spotkał się i pozował wspólnie do zdjęć przy okazji szwedzkiej premiery filmu opartego na musicalu Mamma Mia! inspirowanego utworami zespołu. Było to pierwsze od ponad dwudziestu lat publiczne spotkanie zespołu. W 2010 r zespół uzyskał nominację do Rock and Roll Hall of Fame.
download (mp3 @320 kbs):
yandex 4shared mega mediafire zalivalka cloudmailru uplea
Zmieniony (Czwartek, 21 Kwiecień 2016 13:30)