Any Major Soul 1965
Any Major Soul 1965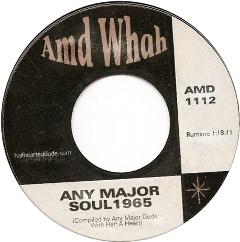 1. The Impressions – Woman's Got Soul
2. The Astors – Candy
3. Willie Tee – Teasin' You
4. Don Covay – Mercy Mercy
5. Ben E. King – Cry No More
6. Lee Dorsey – Get Out Of My Life, Woman
7. Roy Head – Treat Her Right
8. Cannibal and the Headhunters – Land Of 1000 Dances
9. Joe Tex – Sweet Woman Like You
10. Sam & Dave – You Don't Know Like I Know
11. Betty Harris – What A Sad Feeling
12. Barbara Mason – Yes I'm Ready
13. Mary Wells – Me And My Baby
14. Marlina Mars – Head And Shoulders
15. Jack Montgomery – Dearly Beloved
16. Dee Dee Sharp – There Ain't Nothing That I Wouldn't Do
17. The Contours – First I Look At The Purse
18. The Marvelettes – Don't Mess With Bill
19. The Gems – He Makes Me Feel So Good
20. Brenda Holloway – I've Been Good To You
21. Dee Dee Warwick – We're Doing Fine
22. Kris Peterson – Just As Much
23. Gerri Thomas – Look What I Got
24. The Sharpees – Tired Of Being Lonely
25. The Charts – Livin' The Night Life
26. Kim Weston – Take Me In Your Arms (Rock Me A Little While)
27. The Supremes – My World is Empty Without You
28. Rozetta Johnson – That Hurts
29. Billy Prophet – What Can I Do
30. Baby Huey & the Babysitters – Monkey Man

Here is a mix of soul from 1965, though some tracks were released only in 1966. As before, there's a mix of the well known and the forgotten and relatively obscure.
Cannibal and the Headhunters were the first Mexican-American R&B act to make a wider impression with their hit cover of Chris Kenner's Land Of A Thousand Dances, to which lead singer Frankie "Cannibal" Garcia added the famous "na, na na na na" line when he forgot the lyrics. The group supported The Beatles during their second US tour.
Another caucasian singer in this lot is Roy Head, who was actually a rockabilly singer. But just as soul singers could do country – think Brook Benton, Joe Tex, Arthur Alexander, even Solomon Burke — so could some country singers do soul, as Charlie Rich proved in the 1960s. Roy Head's Treat Her Right was a proper soul song; it was kept of the Billboard #1 spot by The Beatles' Yesterday.
Hollywood-born and Detroit-based Kris Peterson might be best known to Frank Zappa fans for her involvement in the Waka Ja Waka album of 1972. For contractual reasons she was prevented from joining Holand-Dozier-Holland's Invictus label, which is a pity, because her Just As Much shows an affinity with the Motown sound.
The Astors recorded on Stax, but don't really sound like it. They recorded only five singles for the label between 1961 and 1967. Candy, co-written by Steve Cropper and Isaac Hayes, was their biggest hit, reaching #12 in the R&B charts.
Betty Harris featured on Any Major Soul 1960-63. By 1965 she recorded on the New Orleans Sansu label, where she was produced by Allen Toussaint. She recorded a lot, and her output is loved by soul fans, though that has not translated to great fame.
Marlina Mars (also known as Marlene Mack) was a member of a few New York-based girl-groups, including The Jaynetts, who had a #2 hit in 1963 with Sally Go 'Round the Roses. At one point she performed as Peaches in live shows of Peaches & Herb. She released a few solo singles in the mid-'60s on several labels, without much success.
Rozetta Johnson, who died last year at the age of 68, started out as a gospel singer, tried her hand at secular music, became disillusioned and returned to gospel and jazz. She was later inducted into the Alabama Jazz Hall of Fame.
The Charts, a Harlem band, are said to be the only band to be booed off the stage at the Apollo's amateur night and still go on to have some success. The gang members-turned-doo wop singers were freestyling vocally in ways the crowd did not appreciate that night in 1956, but a talent scout saw something in them and became their manager. They had a hit in the New York area with Everlast, which over the years sold more than a million copies. Another of their songs, Deserie, was later covered by Laura Nyro as Desirée. A year after Everlast, in 1958, The Charts disbanded for the first time. A reformed version recorded several singles in the 1960s and beyond, but never bothered the hit parade again before disbanding again. In the 1970s they reformed as The Twelfth Of Never and in the '80s as The Charts again. ---halfhearteddude.com
download (mp3 @128 kbs):
yandex 4shared mega mediafire zalivalka cloudmailru uplea ge.tt
Zmieniony (Niedziela, 02 Październik 2016 21:31)