Susanne Sundfor - Music For People In Trouble (2017)
Susanne Sundfor - Music For People In Trouble (2017)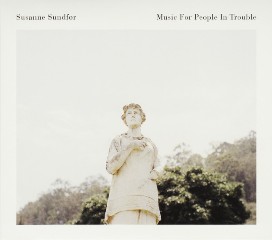 1 	Mantra 	3:31
2 	Reincarnation 	4:05
3 	Good Luck Bad Luck 	3:40
4 	The Sound Of War 	7:49
5 	Music For People In Trouble 	2:55
6 	Bedtime Story 	3:31
7 	Undercover 	4:17
8 	No One Believes In Love Anymore 	5:21
9 	The Golden Age 	4:09
10 	Mountaineers 	5:21

Acoustic Guitar – Erik Johan Bringsvor
Double Bass – Frans Petter Eldh
Drums, Percussion – Gard Nilssen
Flute, Clarinet, Alto Clarinet – Jesse Chandler
Grand Piano – Jon Balke
Grand Piano, Synthesizer, Acoustic Guitar, Vocals – Susanne Sundfør
Pedal Steel Guitar – Greg Leisz 
Saxophone – André Roligheten
Synthesizer, Double Bass, Electric Guitar, Programmed By [Programming] – Jørgen Træen
Vocals – John Grant
Voice [Spoken Words] – Andres Roberts, Lewis Sebastian Kay-Thatcher
Zither [Kanklės] – Megan Kovacs

This return to sparer songwriting makes a stark contrast to the rich synthpop of Norwegian Sundfør's last album, Ten Love Songs. This adventurous artist is far from the winsome charms of her folky 2007 debut, though; now, among the soft fingerpicking of Mantra, or the petal-fall piano and heavenly chorale of Undercover, there's moody sax, meditative spoken samples and – as in The Sound of War or Mountaineers, a gothically glittering duet with John Grant – throbbing, unnerving electronic textures. As the album's title suggests, Sundfør wishes to pour oil on the choppy waters of a weary world, and the warm clarity of her voice offers beautiful moments of respite. ---Emily Mackay, theguardian.com
Susanne Sundfør is a music icon in the making. Gifted with a voice that can be stunning and endearing, the Norwegian singer is able to place herself in any genre she picks that may favour her. Whether touring as a member of Röyksopp or collaborating with M83's Anthony Gonzalez, Sundfør stands out for her simplicity and remarkable talents of vocal flexibility and storytelling.
We can't move forward into this year's Music For People In Trouble, her sixth album and first through Bella Union, without acknowledging the magnitude of 2015's Ten Love Songs. Words to describe how wonderful the piece of musical art the singer self-produced three years ago are scarce due to its uniqueness. With the work's goal of it being a pop album about violence, her redirection towards love and its consequences made Ten Love Songs a highly recommendable and necessary experience.
Music For The People In Trouble is the calm after a storm. Ten Love Songs was loud, irreverent and empowering, but led Sundfør to depression. With her new album , Sundfør takes a more cautious approach, but again positions herself in a place of vulnerability, searching for clarity. Composed after an intercontinental trip through North Korea to the Amazonian forests, the new album goes for simplicity over technology in her most personal work to date, conveying her feeling of wholeness as a musician again. The rule of 'less is more' can be a double-edged sword but in this case simplicity is the clear winner. This is because on Music For People In Trouble is captured in the best way possible. There is a tangible essence and mood on this album, which offers incisive, delicate words and grand musical dimensions, with just a mere guitar, simple piano pieces and her striking voice.
'The Sound of War' divides itself between a folk tale, later bridging into industrial sounding Armageddon, fading into a haunting interlude. 'Undercover', the first single, is a smart love ballad. Sundfør's lyrics, through all her albums, are and should be focal point for detailed attention from the listener. They can be witty or carry with emotional heartbreak, or even just plain romantic folk lullabies. When sung by a force such as Susanne Sundfør, the strength attached to them is unscalable.
Sundfør is a fan of collaboration, and she ends this album with 'Mountaineers', a duet with her label buddy, the one and only John Grant. It is a sublime example of musical symbiosis, where two talented and distinct voices function as one. Music For People in Trouble led Sundfør away from euphoria but, in its own way, also gave her the tools to find herself again in music. Ultimately this directed her down path, through singing in the purest of forms and composing, to finding tenderness in love and matters of the heart. ---Francisco Gonçalves Silva, thefourohfive.com
download (mp3 @320 kbs):