Metallica - S&M (1999)
Metallica - S&M (1999)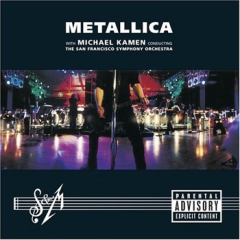 CD 1:
01. The Ecstasy of Gold (Morricone)
02. The Call of Ktulu
03. Master of Puppets
04. Of Wolf & Man
05. The Thing That Should Not Be
06. Fuel				play
07. The Memory Remains
08. No Leaf Clover
09. Hero of the Day
10. Devil`s Dance
11. Bleeding Me

CD 2:
01. Nothing Else Matters
02. Until It Sleeps (Hetfield / Ulrich)
03. For Whom the Bell Tolls
04. Human				play
05. Wherever I May Roam
06. The Outlaw Torn
07. Sad But True
08. One
09. Enter Sandman
10. Bartery

Personnel
Metallica
    James Hetfield – lead vocals, rhythm guitar, lead guitar in "Master of Puppets", "Nothing Else Matters" and "The Outlaw Torn".
    Kirk Hammett – lead guitar, backing vocals
    Jason Newsted – bass, backing vocals
    Lars Ulrich – drums, percussion

San Francisco Symphony
    Michael Kamen – conductor
    John Kieser - general manager
    Eric Achen, Joshua Garrett, Douglas Hull, Jonathan Ring, Bruce Roberts, Robert Ward, James Smelser – French horns
    David Teie principal, Richard Andaya, Barara Bogatin, Jill Rachuy Brindel, David Goldblatt – celli
    Jeremy Constant concertmaster, Daniel Banner, Enrique Bocedi, Paul Brancato, Catherine Down, Bruce Freifeld, Connie Gantsweg,
 Michael Gerling, Frances Jeffrey, Robert Zelnick, Yukiko Kamei, Naomi Kazama, Kum Mo Kim,Gurthanthaclops Yasuko Hattori, Melissa Kleinbart,
 Chumming Mo Kobialka, Daniel Kobialka, Rudolph Kremer, Kelly Leon-Pearce, Diane Nicholeris, Florin Parvulescu, Anne Pinsker, Victor Romasevich,
 Philip Santos, Peter Shelton – violins
    Chris Bogios, Glenn Fischthal, Andrew McCandless, Craig Morris – trumpets
    Stephen Paulson, Steven Dibner, Rob Weir – bassoons
    Steven Braunstein – contrabassoon
    Charles Chandler, Laurence Epstein, Chris Gilbert, William Ritchen, Stephen Tramontozzi, S. Mark Wright – double basses
    Anthony J. Cirone, Ray Froelich, Thomas Hemphill, Artie Storch – percussion
    Don Ehrlich, Gina Feinauer, David Gaudry, Christina King, Yun Jie Liu, Seth Mausner, Nanci Severance, Geraldine Walther – violas
    John Engelkes, Tom Hornig, Paul Welcomer, Jeff Budin – trombones
    Julie Ann Giacobassi, Eugene Izotov, Pamela Smith – oboes
    Russ deLuna – English horn
    David Herbert – timpani
    Linda Lukas, Tim Day, Robin McKee – flutes
    David Neuman, Carey Bell, Luis Beez – clarinets
    Ben Friemuth – bass clarinet
    Catherine Payne – piccolo
    Douglas Rioth – harp
    Robin Sutherland – keyboards
    Peter Wahrhaftig – tuba

After 1988's ...And Justice for All, Metallica pared down its progressive, heavy metal sound. During the '90s, the band's studio releases grew slicker and more produced, resulting in mostly radio-friendly, good ol' boy metal. By the end of the decade, Metallica was established as the pioneer of modern metal, but the band hadn't done anything innovative, arguably, in ten years. In April 1999, the group performed two concerts with the San Francisco Symphony, and the result was S&M, a two-disc collection of the concerts. Overall, the album successfully pairs violin strings with guitar strings, but it's no surprise that the best tracks here are the older songs; their multi-layered, compositional style works well with symphonic arrangements. "Master of Puppets," "Call of the Ktulu," "One," and "For Whom the Bell Tolls" sound richer and fuller with violin, trumpet, clarinet, harp, trombone, and flute accompaniments, but "Sad but True," "Devil's Dance," and especially "Of Wolf and Man" range from haphazard and melodramatic to uninspired. S&M definitely has its moments, and not just with the pre-Black Album material: "Fuel" surpasses the furious pumping energy of the studio version, "Hero of the Day" stays poignant throughout, and "Until It Sleeps" has a wonderfully sinister feel. James Hetfield maintains his madman persona from beginning to end, laughing maniacally and grunting and growling at all the right moments. Overall, the symphony adds a macabre, ghoulish atmosphere -- it all sounds like a Broadway freak show or a revved-up Danny Elfman nightmare. Which is exactly what a Metallica album should sound like, even if every song isn't the best (or most appropriate) in the band's catalog. ---Gina Boldman
S&M (an abbreviation of Symphony and Metallica) is a live album by the American heavy metal band Metallica, with the San Francisco Symphony conducted by Michael Kamen. It was recorded on April 21–22, 1999 at The Berkeley Community Theatre. This is the final Metallica album to feature Jason Newsted as bassist.
S&M contains performances of Metallica songs with additional symphonic accompaniment, which was composed by Michael Kamen, who also conducted the orchestra during the concert. The idea to combine heavy metal with an epic classical approach, as James Hetfield has stated repeatedly, was an idea of Cliff Burton. Burton's love of classical music, especially of Johann Sebastian Bach, can be traced back to many instrumental parts and melodic characteristics in Metallica's songwriting including songs from Ride The Lightning and Master of Puppets. The other inspiration was Deep Purple's 1969 Concerto for Group and Orchestra. Purple revived their hybrid musical performance in 1999's Live at the Royal Albert Hall after being notified that Metallica were doing theirs earlier that year.
In addition to songs from previous albums spanning Ride the Lightning through ReLoad, there are two new compositions: "No Leaf Clover" and "−Human". "The Ecstasy of Gold" by Ennio Morricone, Metallica's entrance music, was played live by the orchestra. "No Leaf Clover" has since been performed by Metallica in concert, using a recording of the orchestral prelude. "−Human", credited as "Minus Human", was included in the soundtrack of the Electronic Arts game NHL 99, but has never subsequently been performed.
Several other songs, including "Wasting My Hate", "The Unforgiven", Low Man's Lyric "Fade to Black", The Unforgiven II, Through The Never, Harvester of Sorrow,Unexpectly ...And Justice For All was a thought for the setlist but due to the gap since they last played it and with little time to prepare it was chopped, also Ronnie and even Mama Said were considered for selection, but were eventually dropped as it was decided by both Metallica and Kamen that they were not well suited for symphonic accompaniment. On the S&M DVD documentary, Metallica and Kamen can be seen and heard discussing the orchestration for the Anti-Nowhere League and Metallica favourite cover-song "So What?", though it's obvious both parties were enjoying a good joke and had no intentions of performing the song.
Changes were made to the lyrics of some songs, most notably the removal of the second verse and chorus of "The Thing That Should Not Be" and playing the third verse in its place. The "S" in the stylized "S&M" on the album cover is a backwards treble clef, while the "M" is taken from Metallica's logo. The drum kit Ulrich used on the album currently resides in a Guitar Center in San Francisco.
W mojej recenzji poprzedniego wydawnictwa Metalliki napisałem, że za co by się ten zespół nie wziął, robi to z klasą. W tej chwili podpisuję się pod tym drugą ręką, a wszystko to za sprawą "S&M". Można się czepiać, że kasa jest w życiu najważniejsza i tak dalej, ale i tak każdemu "staremu" fanowi Metalliki ten album się spodoba. Dlaczego? Bo to jest Metallica Bracia i Siostry!
Po pierwszym przesłuchaniu nie miałem wyrobionego zdania - za dużo wrażeń jak na jeden raz. Po drugim potrafiłem już powiedzieć, że to jest niezłe, a potem przez kilka dni nie wyjmowałem tych dwóch krążków z odtwarzacza. Płyty słucha się z prawdziwą przyjemnością i za każdym razem odkrywa się coś nowego. No, ale trudno się dziwić - w orkiestrze symfonicznej instrumentów jest bardzo dużo i trzeba się po prostu skupić. Marnie wypadły tu tylko dwie kompozycje - zupełnie niemrawo zagrane "Bleeding Me" oraz jeszcze gorszy "Hero Of The Day". Niektóre utwory zyskały ogromnie, w szczególności "Devil's Dance", tak bezpłciowy na "ReLoad", nudnawy w oryginale "Outlaw Torn" oraz dynamiczny "Fuel". Odśpiewane przez publikę "The Memory Remains" również zrobiło na mnie wielkie wrażenie. Rozmyślnie zostawiłem na koniec omówienie "klasycznych" kawałków grupy. To co działo się ze mną podczas "Master Of Puppets", "For Whom The Bell Tolls", "One" i "Battery" nie da się opisać słowami. Po raz kolejny w życiu dotarło do mnie, że w muzyce nie ma granic. Aż trudno sobie wyobrazić, że dyrygent Michael Kamen, zajmujący się na codzień muzyką poważną, może tak znakomicie odczytać intencje muzyków rockowych. Pozostałe utwory brzmią znakomicie, lecz czasami wyczuwa się potrzebę "podgłośnienia" orkiestry. Dwa nowe kawałki są zupełnie niezłe i nie zamierzam dochodzić, czy były napisane z myślą o tym koncercie, czy też nie. W "No Leaf Clover" Hammett wycina jak za dawnych czasów - aż miło posłuchać!
Warto mieć tę płytę. Dla mnie ma ona podwójną wartość, gdyż była prezentem urodzinowym i to na dodatek od osoby, którą bardzo, bardzo lubię. --- RaMoNe, rockmetal.pl.
download (mp3 @320 kbs):
yandex mediafire ulozto cloudmailru
Zmieniony (Wtorek, 31 Lipiec 2018 21:38)