Paul Anka – Rock Swings (2005)
Paul Anka – Rock Swings (2005)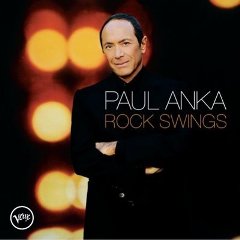 1. Eye Of The Tiger (4:04)
2. Jump (3:37)
3. Everybody Hurts (4:12)
4. Wonderwall (3:37)
5. Blackhole Sun (4:27)
6. Its My Life (4:04)
7. It's A Sin (4:59)
8. True (4:30)
9. Smells Like Teen Spirit (2:42)
10. Hello (5:14)
11. Eyes Without A Face (3:59)
12. Lovecats (3:58)
13. The Way You Make Me Feel (3:49)
14. Tears In Heaven (4:59)

Personnel: 
Dean Parks, Larry Koonse (guitar); 
Gayle Levant (harp); 
Miran Kojian, Jennifer Munday, Rebecca Bunnell, Anatoly Rosinsky, Shari Zippert, Mari Tsumura, Charles Everett, Patricia Johnson , Bruce Dukov,
 Peter Kent, Tiffiany Yi Hu, Armen Garabedian, Darius Campo, Berj Garabedian, Mario Diaz de Leon, Haim Shtrum (violin); 
Jorge Moraga, James V. Ross, Pamela Goldsmith, Marilyn Baker, Simon Oswell, Harry Shirinian (viola); 
Ernest Ehrhardt, Miguel Martinez, Andrew Shulman, Steve Richards (cello); 
Bill Liston (flute, clarinet, tenor saxophone); 
Dan Higgins, Greg Huckins (flute, alto saxophone); 
Joel Peskin (bass clarinet, baritone saxophone); 
Jon Crosse (tenor saxophone); Gary Grant, Larry Hall , Sal Cracchiolo, Warren Luening, Charlie Davis (trumpet); Jim Atkinson, Kurt Snyder,
 Brad Warnaar (French horn); 
 Andy Martin, Alexander Iles, Bill Reichenbach Jr. , Bryant Byers, Bob McChesney, Stephen Holtman (trombone); 
 Mike Lang, Randy Kerber (piano); 
 Emil Richards (vibraphone); 
 Vinnie Colaiuta (drums); 
 Luis Conte (percussion).
 
Pop music sure has changed since Paul Anka last helped rule the airways (as composer or performer) with such mainstays as "My Way, "Diana, "She's A Lady, and "Puppy Love.
Decades later, Anka's own notes explain the Rock Swings! concept: "We all embraced the idea: to find songs from a diverse group of musicians, from Nirvana and Van Halen, to Lionel Richie and The Pet Shop Boys, and reinvent them in an entirely unique way: Swing! The result, a unique sound with great musical content.
Rock Swings! indeed, when cast in these orchestral overviews anchored by rhythm session aces Vinnie Colaiuta (drums) and Mike Valerio (bass) and earnestly fronted by an experienced, genuine singer who helped rule one of pop music's golden eras. When the brass section introduces the opening "It's My Life (Bon Jovi) by quoting "The Best is Yet to Come, it foreshadows the fun that Anka and musicians have tumbling through this survey of two pop decades.
This singer has rarely sounded better, soaring through the love note to Ella Fitzgerald nestled in "True (Spandau Ballet) and pouring himself into the climaxes of "Wonderwall (Oasis) and "Eye of the Tiger (Survivor), where he exchanges hot wallops from the brass. Cool as Fred Astaire, Anka magically glides—no bootstomps or stumbles—through the grunge swamps of "Blackhole Sun (Soundgarden) and "Smells Like Teen Spirit (Nirvana).
Anka may be the star singing up in front of the orchestra, but arrangers Randy Kerber, Patrick Williams, and John Clayton contribute powerfully swinging, warm, and good-humored charts that hoist and keep him there. In total, Rock Swings! becomes far more than Anka breathing new life into old songs—these "old songs seem to breath new life into the singer, too. As an album, this is good. As a career move, this is great. ---Chris M. Slawecki, allaboutjazz.com
download (mp3 @320 kbs):
Zmieniony (Sobota, 20 Październik 2018 09:13)