Pink Floyd – The Early Pink Floyd Singles (1992)
Pink Floyd – The Early Pink Floyd Singles (1992)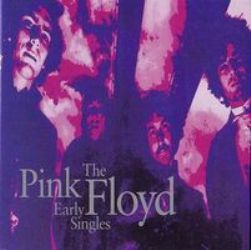 1.    "Arnold Layne" – 2:57
2.    "Candy and a Currant Bun" – 2:47
3.    "See Emily Play" – 2:54
4.    "The Scarecrow" – 2:10					play
5.    "Apples and Oranges" – 3:08
6.    "Paintbox"  – 3:47
7.    "It Would Be So Nice" – 3:46
8.    "Julia Dream"  – 2:35					play
9.    "Point Me at the Sky"  – 3:35
10.    "Careful with That Axe, Eugene" – 5:44

Personnel
    Syd Barrett – lead guitar on 1 to 6; lead vocals on 1 to 5
    David Gilmour – lead guitar on 7 to 10; lead vocals on 8, 9; backing vocals on 7
    Nick Mason – drums, percussion
    Roger Waters – bass guitar; backing vocals on 1, 2, 5, 7, 8, 9
    Richard Wright – piano; organ; synthesizer; lead vocals on 6, 7; backing vocals on 1, 2, 4, 5, 9

A bit of a shame that this one never came out except as a little bonus in the Shine On boxed set - a bit of hunting is required to track it down, as a consequence. (I have fond memories of stumbling across a copy in a second-hand CD shop.) This album tells the other half of the early Floyd story, bringing together the singles and their B-sides - all bar "Scarecrow" non-album tracks - that came out during the Piper At the Gates of Dawn/Saucerful of Secrets era. The first six tracks come from the Barrett era, whilst the last four came out once Barrett had left the band and David Gilmour was firmly established in place.
The early Barrett singles are wonderful, joyous little nuggets that highlight Syd's pop genius. The B-sides are whimsical fluff - Candy and a Current Bun is dumb, but infectiously cheerful, whilst Scarecrow was one of Syd's early fairytale songs - whereas the A-sides (Arnold Layne and See Emily Play) are both powerful slices of guitar-driven early psych which could have happily replaced some of the lesser songs on the album to my mind.
The third and final Syd single is another matter; the jangling, disjointed Apples and Oranges is the least demented of the three songs Syd submitted for consideration as the third single - the other two being the infamous Vegetable Man and Scream Thy Last Scream - and whilst it's interesting enough there's a frenetic edge to it which betrays Syd's oncoming breakdown. Paintbox, Richard Wright's B-side, is actually quite impressive when you consider that it was his first (published) songwriting contribution to the band, to the point where I think it's even better than his contributions to A Saucerful of Secrets - it reminds me, in fact, of some of the similarly light and airy material on Atom Heart Mother.
Wright would also pen the A-side of the first post-Syd single, in fact - It Would Be So Nice, a song that takes early psych whimsy in the vein of the Kinks to a point where it almost looks like self-parody; the song simply doesn't go anywhere and sounded cliched even in the context of the time. One wonders whether it was rush-written and recorded to get some Pink Floyd out there in the wake of Syd's departure, just to establish that the band was still a going concern. Waters' Julia Dream, the B-side, is simply dull, being a somewhat repetitive acoustic guitar ballad with spooky effects played over it.
Conversely, the next single shows a marked improvement; Point Me At the Sky is a Waters/Gilmour collaboration with an intriguing SF concept and suitably dramatic chorus, whilst Careful With That Axe Eugene is a group composition which would become a live staple (as documented on Ummagumma).
Hardly essential, The Early Singles remains worth seeking out for Floyd fans who are keen on the group's early work. --- Warthur, progarchives.com
The Early Singles - album zespołu Pink Floyd, wydany 24 listopada 1992 r. Utwory zawarte na płycie zostały nagrane między 1967, a 1968 rokiem. Album jest dostępny tylko w boksie - Shine On. Album "The Early Singles" jest gratką dla fanów Pink Floyd oraz rocka psychodelicznego. Zawiera dziesięć pierwszych utworów singlowych zespołu, z czego tylko jeden, "Scarecrow" znalazł się na regularnym albumie - "The Piper at the Gates of Dawn". Utwory są poukładane chronologicznie, co daje możliwość wgłębienia się w rozwój zespołu Pink Floyd. Utwory te (plus dwa inne) wydano wcześniej na płycie winylowej The Best Of The Pink Floyd, ale dostępnej tylko w Holandii i nie wznawianej na CD.
download (mp3 @320 kbs):
Zmieniony (Sobota, 03 Listopad 2018 20:49)