U2 – How To Dismantle An Atomic Bomb (2004)
U2 – How To Dismantle An Atomic Bomb (2004)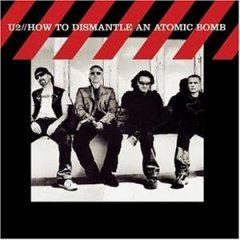 1. Vertigo 
2. Miracle Drug 
3. Sometimes You Can't Make It on Your Own 
4. Love and Peace or Else 
5. City of Blinding Lights 
6. All Because of You 
7. Man and a Woman 
8. Crumbs from Your Table 
9. One Step Closer 
10. Original of the Species 
11. Yahweh

Bass Guitar – Adam Clayton
Drums, Percussion – Larry Mullen Jr
Guitar – The Edge
Vocals – Bono 
+
Backing Vocals – The Edge, Bono, Larry Mullen
Synthesizer – Jacknife Lee, Brian Eno
Percussion [Additional], Synthesizer [Additional] – Carl Glanville
Piano, Keyboards, Vocals [Additional] – The Edge
Pedal Steel Guitar – Daniel Lanois
Mandolin – Daniel Lanois

After 13 albums which have sold over 140 Million copies do U2 matter any more? And, more importantly, does a band that has been around for 25 years have the drive to produce another great album? In U2's case the answer is a resounding 'Yes'. I believe a certain Larry Mullen won't allow the band to fade away or to start making dull music. He formed the band and I have the sneaking suspicion he'll be the one to finish it as well.
U2 have never stood still. Musically, everything is absorbed, weighed, modified and if it doesn't fit, discarded. The experimentation of Achtung Baby and the blues of Rattle And Hum testify to that. At the core of the band remains a white hot honest desire to be bigger and better than anyone else. They want to create work that they'll remain proud of for years to come. In How To Dismantle An Atomic Bomb, the band has returned to a mixture of original raw rock and the epic sweep of The Unforgettable Fire.
Opener "Vertigo" is a summary of the album in one 3 minute hit. This is a sophisticated piece of work dressed up as a rock-out single. Old sounds, new sounds, the bass right up in your face - they've taken all that is U2 and distilled it. It's brilliant. And that level of craft permeates throughout the whole album. There are some genuinely breathtaking moments - "Sometime You Can't Make It On Your Own", with Bono writing about his father, "City Of Blinding Lights" and the beautifully simple "A Man And A Woman". Overall there's a confidence and energy that pushes this release well beyond their competitors and their previous work.
The range of sounds, emotions and joy pumped into How To Dismantle An Atomic Bomb make it hard to resist. There are no surprises here and no sudden left turns. They've stuck to what they know and I'm not going to argue with the results. This will be an album I'll come back to and cherish.
Great artists remain relevant regardless of the time and U2 are still great artists working at the peak of their powers. ---Mike Hales, BBC Review
download (mp3 @320 kbs):
yandex mediafire ulozto gett bayfiles
Zmieniony (Niedziela, 17 Marzec 2019 20:44)