Grateful Dead - Fillmore East, New York (1970)
Grateful Dead - Fillmore East, New York (1970)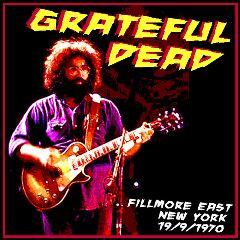 Disc 1:
1 - The Other One
2 - Cryptical Envelopment
3 - Dire Wolf
4 - Casey Jones
5 - Not Fade Away
6 - Cumberland Blues
7 - Cold Rain And Snow
8 - High Time
9 - Me & My Uncle

Disc 2:
1 - Dark Star *
2 - Spanish Jam *
3 - Turn On Your Lovelight *
4 - Uncle John's Band

* With Duane and Gregg Allman and Peter Green

Grateful Dead:
    Jerry Garcia – lead guitar, vocals
    Bob Weir – rhythm guitar, vocals
    Ron "Pigpen" McKernan – keyboards, harmonica, percussion, vocals
    Phil Lesh – bass, vocals
    Bill Kreutzmann – drums
    Mickey Hart – drums

A great and historic recording from two shows played on February 11, 1970. The first four tracks are from the early show and the others from the late.
The Dead played a Wednesday at Fillmore East, and then skipped a night and played the customary Friday-Saturday weekend show. This was completely unprecedented in the history of the Fillmore East. No other headline band at Fillmore East broke up a run with a day off--much less to play a relatively small club uptown.
The reason, as we have ultimately determined, was that Warner Brothers wanted the Dead to play an industry "showcase" at Ungano's (see below), and a few shows at Fillmore East essentially financed the trip. Since the Fillmore East was among the very few venues were the Dead were willing to play on the house sound system, they could simply fly to New York (with their guitars) and play the Fillmore East without the equipment truck.
The Dead had met the Allman Brothers, but never heard them play (although Jerry and Duane Allman had jammed in Atlanta on July 7, 1969). February 11, 1970 was a truly legendary night. After a perfunctory, if enjoyable early show, most of the Allman Brothers and some members of Fleetwood Mac (in town with nothing to do) joined the Grateful Dead onstage for an epic rock jam that included an unforgettable "Turn On Your Lovelight." --- lostlivedead.blogspot.com
download (mp3 @VBR kbs):
Zmieniony (Wtorek, 03 Kwiecień 2018 09:25)