My Dynamite - My Dynamite (2012)
My Dynamite - My Dynamite (2012)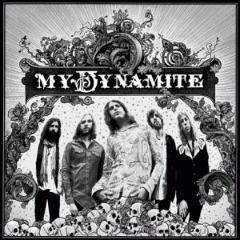 01 – Take It Or Leave It
02 – Inside Out
03 – If We're Livin'		play
04 – Dirty Game		play
05 – Watch Yourself Grow
06 – Raise Your Glasses
07 – Singing Stormy Weather
08 – Big Attraction
09 – All That She Brings
10 – Fork In Your Tongue

Backing Vocals – Benny Wolf, Ella Thompson, Jorge Balas, Kylie Audlist, Travis Fraser
Banjo – Jorge Balas
Bass – Travis Fraser
Drums – Simon Aarons
Guitar – Benny Wolf, Jorge Balas
Harmonica – Pat Carmody
Organ – Andy Burns
Pedal Steel Guitar – Benny Wolf
Percussion – Simon Aarons
Piano – Andy Burns
Saxophone – Austin Ley
Trombone – Wes Mowson
Trumpet – Miles Izzo
Vocals – Pat Carmody

"Proto-metal" (as it is now being called) is essentially what Led Zeppelin were doing in their heyday, and what My Dynamite are bringing back today - but with a twist. Their particular brand of blues-influenced Rock 'n' Roll remains catchy and melodic at all times, whilst never becoming boring.
The vocals are truly typical of this kind of music: totally hook-driven and catchy. Partrick Carmody was very obviously raised on good old Rock 'n' Roll bands and you can really hear the 70s/80s influences in his singing. He blasts his way through the album with phenomenal gusto and real determination, never once sounding out of time or out of place. He occasionally employs a brief scream/shout, which again doesn't sound out of place, and just serves to add an extra dimension to the music. There are songs like Dirty Game in which the rest of the band contribute towards the vocals as well, just to give a real backing punch to the lyrics; which are, for the most part, of standard 'Deep South' living, girls and booze.
At the same time, the vocals don't take away from the instrument lines; they still remain a large part of the music, not just simply as a background idea. There are a lot of Lynyrd Skynyrd-esque riffs, such as the intro to Watch Yourself Grow or almost the whole of If We're Livin'; the latter of which relies on the guitar crunch to drive it through. Of course, there are guitar solos, in ample quantity, but that's precisely what you expect from these guys. The solos are never overtly technical, more slow and punchy. There's also a fantastically done Harmonica solo during opener Take It Or Leave It, which really does to show just how musically technical My Dynamite are.
Don't be fooled into thinking that this band is only really capable of doing fast-paced rock though, songs like Singing Stormy Weather show that even when they slow it down and pack the song full of slow-groove they are capable of making it catchy and danceable.
Anyone should like this, regardless of regular musical taste. It's crunchy enough to win over fans of heavier music like AC/DC or even Black Sabbath (it's certainly ballsy enough to be taken seriously) and melodic and bluesy enough to draw in fans of traditional rock and blues like The Rolling Stones. --- metalasfuck.net
download (mp3 @VBR kbs):
Zmieniony (Wtorek, 21 Sierpień 2018 20:21)