Ronnie Dio & The Prophets - Dio At Domino's (1963)
Ronnie Dio & The Prophets - Dio At Domino's (1963)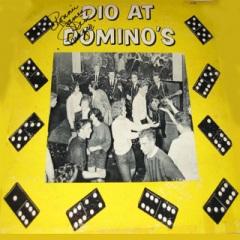 01. Follow Me - 1:50
02. Blue Days, Blue Nights - 2:11
03. I Left My Heart In San Francisco - 3:50
04. Red Top - 2:15
05. An Angel Is Missing - 2:29
06. Irresistible You - 2:19
07. I Told You So - 2:28
08. Everybody's Got A Dance - 3:13
09. Don't Take Your Love From Me - 3:42
10. Make Johnny Blue - 2:15
11. Great Balls Of Fire - 2:05
12. Love Pains - 1:51

Personnel:
- Ronnie James Dio (Ronald James Padavona) - vocals, bass
- Dick Bottoff - guitars
- Nick Pantas - guitars
- Tom Rogers – drums

The band's history begins in 1957 when several Cortland, New York musicians formed the band The Vegas Kings, which soon changed their name to Ronnie and the Rumblers. This band's lineup had Ronnie Padavona on the bass guitar, along with singer Billy de Wolf, guitarist Nick Pantas, drummer Tom Rogers, and saxophone player Jack Musci.
In 1958 the band again changed their name, along with a few changes of personnel. The band was now known as Ronnie and the Red Caps. At this point, Padavona began singing, replacing de Wolf. Musci also left the band, and a new guitarist, Dick Botoff, joined. The Redcaps lineup released two singles: "Lover" b/w "Conquest" (with De Wolf on vocals on the A-side) on the Reb label, and on Seneca (S 178-102, USA), 'An Angel Is Missing' with 'What'd I Say' on the B side (both songs featuring Ronnie Dio on vocals).
In 1961 they changed their name to Ronnie Dio and The Prophets. (Presumably, this is also the first time Padavona began using the pseudonym "Dio"). The Prophets lineup lasted for quite a long time and produced several singles and one album. Some sources state that some of the single releases would've been made by Ronnie James Dio solo, but others, such as Dio himself, state that all of the singles were made as a band. The band ended in 1967, when Dio and Pantas continued on in a new band called The Electric Elves. ---last.fm
Ronald James Padavona, znany bardziej jako Bóg heavy metalu, posiadacz jednego z najbardziej znanych i najpotężniejszych głosów w muzyce rockowej, urodził się 10 lipca 1942 roku w Portsmouth w stanie New Hampshire. Jego rodzice byli z pochodzenia Włochami. Rodzina Padavona przeniosła się później do Cortland w stanie Nowy Jork, gdzie Ronnie skończył szkołę. Krótko studiował farmację na Uniwersytecie w Buffalo - rzucił studia, by poświęcić się całkowicie muzyce.
Ową szlachetną sztuką zaczął interesować się wcześnie - w młodości grał na trąbce i waltorni. W 1957 roku dołączył do grupy The Vegas Kings. Początkowo grał tam na gitarze basowej, wkrótce jednak, stał się wokalistą Królów, którzy ostatecznie zaistnieli jako Ronnie Dio & The Prophets. Młody Padavona przyjął wtedy nazwisko "Dio" na cześć gangstera Johnny'ego Dio. W 1963 roku, po kilkunastu singlach, grupa skompilowała pierwszy i jedyny swój album.
Cztery lata później The Prophets rozwiązali się, a Ronnie wraz z gitarzystą Nickiem Pantasem założył zespół The Electric Elves (Elf). --- filmweb.pl
download (mp3 @320 kbs):
Zmieniony (Niedziela, 30 Grudzień 2018 20:04)