Depeche Mode – Sounds of The Universe (2009)
Depeche Mode – Sounds of The Universe (2009)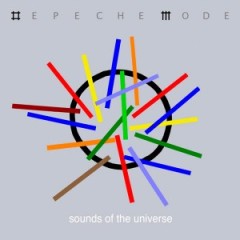 01. In Chains (6:47)
02. Hole To Feed (3:56)
03. Wrong (3:12)
04. Fragile Tension (4:08)
05. Little Soul (3:33)
06. In Sympathy (4:54)
07. Peace (4:29)
08. Come Back (4:03)
09. Spacewalker (1:52)
10. Perfect (4:35)
11. Miles Away (4:13)
12. Jezebel (4:44)
13. Corrupt (5:04)

Christian Eigner, Andy Fletcher, David Gahan, Martin Gore
2005's Playing the Angel proved to be one of Depeche Mode's strongest albums -- the combination of Ben Hillier's production, the emergence of David Gahan as a songwriter following his initial solo effort and a clutch of striking songs that openly embraced arena-level bombast following the much more subtle Exciter resulted in wide praise and a well-received tour. As a result -- especially given the return of Hillier, the first producer to work on two Depeche albums in a row since Flood's heyday with Violator and Songs of Faith and Devotion -- Sounds of the Universe was initially suspected of being Playing the Angel redux, something the swaggering lead single "Wrong" didn't undercut at all. After all these years, though, Depeche can still pull out surprises, and what's quite astonishing about Sounds is how they've returned to the equipment and textures of their early-'80s work in particular while reworking it to match both Gahan and Martin Gore's current lyrical and songwriting techniques. On balance, Sounds is one of Depeche's lower-key albums, but not without explosive or dramatic moments by any means, though. "Come Back," one of Gahan's three songwriting contributions, captures a sudden sense of vast space right from its start, the deep-chugging percussion and reverberation perfectly contrasting the soft chimes on the verses, while "Peace," with an opening bassline straight out of the days of the band's pop-industrial phase, and a stellar vocal turn from Gahan, is an absolute high point. But "In Chains," the slow-building start to the disc, sets the tone best for Sounds as a whole, with a hushed keyboard introduction, Gahan's swoon-worthy vocals (showcasing some of his best falsetto work yet), Gore's compressed funk guitar blasts and, above all else, the sense of older styles and sounds -- classic drum machines, early synthesizers, a rumbling bass undercarriage -- serving new purposes. More overt nods to earlier days appear with songs such as "Fragile Tension" and "In Sympathy," both featuring keyboards and beats sounding beamed in from A Broken Frame days but also with beautiful vocals that the younger Gahan could never have so easily done and guitar textures that the younger Gore had yet to fully embrace. "Perfect," meanwhile, almost reaches back to Speak & Spell thanks to an opening keyboard line that immediately calls the song "Puppets" to mind, but again it's more of a launching point for the current band's sound rather than a simple exercise in retrospection. Gore's sole lead vocal appears towards the end of the album on the enjoyable if understated "Jezebel," but his uncanny knack for harmonizing with Gahan throughout remains intact, with stand-out performances including the understated clatter and chime of "Little Soul" and his bravura turn toward the end of "Wrong." On the whole, Sounds of the Universe is a grower, relying on a few listens to fully take effect, but when it does, it shows Depeche Mode are still able to combine pop-hook accessibility and their own take on "roots" music for an electronic age with sonic experimentation and recombination -- not bad for a band with almost three decades under its collective belt. --Ned Raggett, AllMusic Review
Dźwięki wszechświata" autorstwa Depechów to zestaw 13 wspaniałych, muzycznych historii, które dają się pokochać od pierwszego przesłuchania. Depeche Mode powróciło do elektronicznych korzeni lat 80., jak zostało to zapowiedziane w przedpremierowych wywiadach. Zrobili to w mistrzowski sposób, nie robiąc z "powrotu" odgrzewanego kotleta, lecz coś świeżego, stanowiącego nowy krok w rozwoju szeroko pojmowanego nurtu muzycznego reprezentowanego przez Depeche. Pomocne tu okazały się najróżniejsze syntezatory, automatyczne perkusje i inny tego typu sprzęt, jak również eksperymentalne zabiegi w studiu, co można zobaczyć np. na filmach dostępnych w serwisie YouTube.
Muzyka, jak na poprzedniej płycie - "Playing the Angel" - to kosmiczna podróż w najdalsze zakątki wszechświata, o jej ziemskim pochodzeniu przypominają niekiedy wstawki gitarowe oraz niesamowite głosy Dave'a Gahana i Martina Gorea - ten ostatni zaśpiewał w całości tylko kawałek pt. "Jezebel", w innych towarzyszy Dave'owi jako chórek. Natomiast Gahan z każdą płytą prezentuje nam coraz większe możliwości wokalne. Zachwyca, przywołuje najbardziej intymne uczucia, hipnotyzuje. Z ciekawostek: do wzmocnienia wyrazu nagrywanych wokali, artyści wykorzystali w niektórych piosenkach opróżnione butelki.
Oprócz dźwięków rodem z kosmosu, bezkonkurencyjnego wokalu, trzecią częścią sukcesu Depeche Mode są głębokie, liryczne teksty. Autorem większości z nich jest Martin Gore, wspomagany przez Dave'a Gahana ("Hole To Feed", "Come Back", "Miles Away / The Truth Is"), który zaczął pisać teksty od "Playing the Angel".
Będąc wielkim fanem dokonań grupy z Basildon, trudno mi wskazać lepsze lub gorsze fragmenty płyty. Na pewno dobrym wyborem na singla był utwór "Wrong", który jest chwytliwą kompozycją i mocnym akcentem "Sounds of the Universe". Na stronie B singla znalazła się kompozycja pt. "Oh well", do której tekst został napisany przez Gahana i Gorea, co jest novum w historii Depeche. ---Śledziu, rockmetal.pl
download (mp3 @320 kbs):
yandex mediafire uloz.to cloudmailru gett
Zmieniony (Sobota, 20 Styczeń 2018 21:22)