Chuck Berry - The Definitive Collection (2005)
Chuck Berry - The Definitive Collection (2005)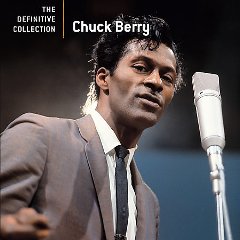 1. Maybellene
2. Thirty Days
3. You Can't Catch Me
4. Too Much Monkey Business
5. Roll Over Beethoven
6. Brown Eyed Handsome Man
7. Havana Moon
8. School Day
9. Rock And Roll Music
10. Oh Baby Dell
11. Reelin' And Rockin'
12. Sweet Little Sixteen
13. Johnny B. Goode
14. Around And Around
15. Beautiful Delilah
16. Carol
17. Memphis, Tennessee
18. Sweet Little Rock & Roller
19. Little Queenie
20. Almost Grown
21. Back In The U.s.a.
22. Let It Rock
23. I'm Talking About You
24. Come On
25. Nadine (is It You?)
26. You Never Can Tell
27. Promised Land
28. No Particular Place To Go
29. I Want To Be Your Driver
30. My Ding-a-ling (live, Single Edit)

Personnel: 
Chuck Berry (vocals, guitar); 
Hubert Sumlin, Jimmy Rogers , Owen McIntyre (guitar); 
James Robinson , L.C. Davis (saxophone); 
Dave Kafinetti, Johnnie Johnson, Lafayette Leake, Otis Spann, Paul Williams (piano); 
Nic Potter (electric bass); 
Reggie Boyd, G. Smith, Willie Dixon (bass guitar); 
Fred Below, Odie Payne, Jr., Robbie McIntosh , Jasper Thomas, Ebby Hardy (drums); 
Jerome Green (maracas); 
Band Chorus, Etta James & The Marquees, Martha Berry (background vocals).

There have been many, many Chuck Berry compilations released by Chess over the years, but as of the spring of 2006, there was no comprehensive single-disc set in print; there was the double-disc 2005 set Gold, which itself was a retitled reissue of 2000's Anthology, but the classic comp The Great Twenty-Eight was long out of print, and nothing had replaced it until the 2006 release of The Definitive Collection. This generous 30-track selection offers nearly everything that was on The Great Twenty-Eight and in nearly the same sequence -- "Brown Eyed Handsome Man" and "Roll Over Beethoven" are swapped, for instance, but it's not really a noticeable change. "Bye Bye Johnny" is the only song missing from The Great Twenty-Eight, which is not a huge omission, especially since it's been replaced with two great singles, "You Never Can Tell" and "Promised Land." "My Ding-A-Ling" is also here and, while it is a worse song than "Bye Bye Johnny," it was Chuck's only number one single, so its inclusion makes sense -- and it hardly sinks a collection that is by far the best, most comprehensive single-disc Chuck Berry set yet assembled. Sure, there are some great Berry songs that are absent, but all the major songs are here; plus, if you need more than 30 songs, turn to either Gold or The Chess Box. If you want a single-disc best-of collection of all of Chuck's finest, this is the one to get. --- Stephen Thomas Erlewine, allmusic.com
download (mp3 @320 kbs):
yandex 4shared mega mediafire uloz.to cloudmailru uptobox ge.tt
Zmieniony (Sobota, 30 Grudzień 2017 15:19)