Manu Chao – La Radiolina (2007)
Manu Chao – La Radiolina (2007)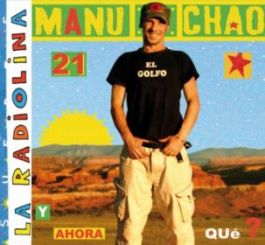 1.13 Dias
2.Tristeza Maleza		play
3.Politik Kills
4.Rainin In Paradize
5.Besoin De La Lune
6.El Kitapena
7.Me Llaman Calle
8.A Cosa
9.The Bleedin Clown
10.Mundoreves
11.El Hoyo
12.La Vida Tombola
13.Mala Fama
14.Panik Panik		play
15.Otro Mundo
16.Piccola Radiolina
17.Y Ahora Que ?
18.Mama Cuchara
19.Siberia
20.Sone Otro Mundo
21.Amalucada Vida

    Manu Chao – vocals and guitars
    Madjid Fahem – guitars and bass
    David Bourguigon – guitars
    Jean Michel Gambit a.k.a. Gambeat – bass and vocals
    Roy Paci – trumpets
    Angelo Mancini – trumpets on "Politik Kills"
    Tonino Carotone – vocals and harmonies on "A Cosa"
    Amadou Bagayoko – guitar on "A Cosa"
    Cheik Tidiane – keyboard on "A Cosa"
    Flor – Spoken vocals on "A Cosa"
    Beatnik – vocals on "Tristeza Maleza"
    José Manuel Gamboa and Carlos Herrero – flamenco guitars on "Me Llaman Calle"

"Rainin in Paradize", the first single from the album, was available before its official release for download on his website. The single features a music video directed by Serbian filmmaker Emir Kusturica. There is also a video for the song "Me Llaman Calle", featuring Manu Chao performing in a local bar.
The album's title La Radiolina means the small radio in Italian, referring to a small-sized transistor radio. The album is mainly sung in Spanish. "Politik Kills", "Rainin In Paradize", "The Bleedin Clown" and the first two lines of "Siberia" are in English; "Besoin de la Lune" and "Panik Panik" are in French; "A Cosa" is in Italian, a first for Manu Chao; "Amalucada Vida" is in Brazilian Portuguese. ---wiki
Not surprisingly, the highly political singer is no fan of George W. Bush, yet his activist pulse never interferes with his dazzling, multi-faceted music, which contains traces of everything from flamenco and griot to punk and ska. LA RADIOLINA is as much a distinct portrait of a singular artist, as it is a whirlwind tour of the global underground.
One of the most enigmatic and exciting figures in world music, Manu Chao makes each new release an event, via both his fiery, ever-expanding musical repertoire and his larger-than-life rebel persona. LA RADIOLINA is the singer's fourth solo album following the break-up of his Clash-inspired punk act Mano Negra, and it's as musically polyglot as the artist's multi-lingual tongue. Singing capably in Spanish, French, English, and Italian, among other languages, Chao brings a genuine worldliness to his music that goes far beyond mere multi-cultural lip service. ---cduniverse
download (mp3 @192 kbs):
yandex 4shared mega mediafire cloudmailru oboom uplea
Last Updated (Wednesday, 25 November 2015 13:00)