Mambo (Box Set) 5 CDs (2010)
Mambo (Box Set) 5 CDs (2010)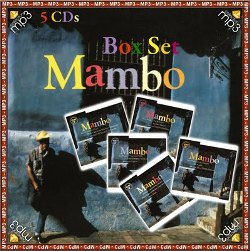 Mambo Vol 1 
Stan Kenton - Peanut Vendor 
Tito Puente - Mambo Inn 
Perez Prado - Martinica 
Davilita - Aqua Clara 
Art Pepper - Mambo De La Pinto 
Joe Loco - Mambo Azul 
Casino Conjunto - Mambo Con Cha Cha Cha 
The Joe Cuba Sextet - Simpre Sea 
Tito Puente - Este Es Coco 
Celeste Mendoza - Te Di Un Beso Sin Importancia 
La Sonora Matancera - Eugemio 
Yamo Toro - Siempre En Orbita 
Oriental Orquestra - Mi Son Changui 
Perez Prado - Kandela 
Machito Y Su Afro-Cuba Orquest - Holiday Mambo 		play
Tito Puente - Mambo With Me 
Daniel Con Sonora Matacera San - Sabrosito 
Tito Rodriquez - Roy Roy Mambo 

Mambo Vol 2 
George Shearing - Mambo Caribe 
Perez Prado - Mambo De Paris 
Tito Rodriquez - Tony And Lucille Mambo 
Tito Puente - Mambo Rama 							play
La Sonora Matancera - Zambele 
Trio Maravilla - Yim Yere 
Jose Luis Monero - Baile Chevere 
Tito Puente - Ran Kan Kan 
Joe Loco - One Beat Mambo 
Roberto Faz - Mambo Con Cha Cha Cha 
Bienvenido Granda Con Sonora M - Quajiriando 
Perez Prado - Ole Mambo 
Tito Puente - Este Tumbao 
Machito Y Su Afro-Cuban Orques - Mambo Inn 
Casion Conjunto - Quien Sera 
Perez Prado Y Su Orquestra - Alekum Salem 
Oriental Orquesta - Ritmo De Berragua 
Rene Grand - Carmen 

Mambo Vol 3 
Tito Puente - Mambo Rumbon 
Rene Grand - Go Go Mambo 
Perez Prado - Mambo Del 65 							play
Vicentico Valdes - Tubito Con Su Guitarra 
Tito Rodriguez - Up And Down Mambo 
Cortijo - El Mantequero 
Tito Puente - Camina Camaron 
Ismael Rivera - Saoco 
Cheo Feliciano - Cachondea 
La Sonora Matancera - Besito De Coco 
Joe Loco - Too Marvelous For Words 
Machito Y Su Afro-Cuban Orques - Oboe Mambo 
Tito Puente - Guajeo En Dominte 
Riverside Orquesta - El Aqua Del Pon Pon 
Jose Luis Moneo - Fantasia Nº 3 
Perez Prado - Al Compas Del Mambo 
La Sonora Matancera - Oye Este Mambo 
Graciela Con Machito Y Su Orqu - Si, Si, No, No 

Mambo Vol 4 
Joe Loco - Band Stand Mambo 
Perez Prado - Cuban Mambo 
Tito Rodriguez - Joe Lustig Mambo 							play
Wilfredo Figuera - El Pescador 
Tito Puente - Coco Seco 
Manolin Morel - El Guayo De Catalina 
Damiron - Eslava 22 
Riverside Orquesta - Espana En Llamas 
Los Ruffino - Siboney 
Tito Puente - Mambo Suavecito 
Joe Valle - Felicidades 
George Shearing - Mambo No.2 
Perez Prado - Mambo En Sax 
Daniel Santos - El Mambo Es Universal 
La Sonora Matancera - Cuban Pete 
Machito Y Sus Afro Cubanos - Adivinanza 
Tito Puente - La Guira 
Bobby Capo - April In Portugal 

Mambo Vol 5 
Machito Y Su Afro-Cuban Orques - Sentimental Mambo 
Perez Prado - Perez Prado - Go Go Mambo 
Celio Gonzalez - Mambo Para Que Goche 
The Joe Cuba Sextet - Rosalia 
Tito Puente - Mambiando 
Daniel con Sonora Matancera Santos - Mambo pide la gente 
Bobby Capo - El Cucu 
Machito Y Sus Afro Cubanos - Me Miraste Y Te Mire 
Tito Puente - El Rey Del Timbal 
La Sonora Matancera - El Mambito 
Tito Gomez Con La Orquesta Riv - Ahora Si Tengo Tu Amor 
Tito Rodriguez - Mambo Mona 
Perez Prado - Mambo Nº 5 
Tito Puente - Mambo Tipico 
Manolin Morel - Ponte En La Bola 
Damiron Y Chapuseaux - Ingles Y Espanol 
Bobby Pauneto - Aguantando 
Jose Loco - Jive Mambo								play

Mambo is a Latin dance of Cuban origin that corresponds to mambo music. Mambo music was invented during the 1930s in Havana by Cachao and his contemporaries and made popular around the world by Perez Prado and Beny Moré. Mambo music developed from Danzón and was heavily influenced by the Jazz musicians that the Italian-American gangsters, who controlled Havana's casinos, brought to entertain their American customers.
In the late 1940s, Perez Prado came up with the dance for the mambo music and became the first person to market his music as "mambo". After Havana, Prado moved his music to Mexico, where his music and the dance was adopted. The original mambo dance was characterized by freedom and complicated foot-steps. Some Mexican entertainers became well known dancers like Tongolele, Adalberto Martínez, Rosa Carmina, Tin Tan and Lilia Prado. Most of these accompanied Prado in live presentations or were seen in Mexican films.
The original form of the dance and music are alive and well in Cuba and in taught in dance studios in Mexico City. An example of authentic Mambo dance can be seen in the film 'The Motorcycle Diaries'. Professional dance teachers in the US saw this approach to dancing as "extreme," "undisciplined," and thus, deemed it necessary to standardize the dance to present it as a sell-able commodity for the social or ballroom market The modern dance from New York was popularized in the 70s by Eddie Torres and his contemporaries who were 1st or 2nd generation Puerto Rican immigrants. This style is not danced to Mambo music, for which it is poorly suited, but instead to Salsa music.
Mambo – taniec towarzyski pochodzący z Kuby, w metrum parzystym. Ukształtował się w latach 30. XX wieku. To fuzja swingu i muzyki kubańskiej stworzyła rytm, który był początkiem mambo. Szczyty popularności tego tańca to lata 40. oraz część lat 50. ubiegłego stulecia. Potem cha-cha wyparła ten taniec z salonów i stracił on popularność.
Obecnie mambo znowu zyskuje sobie zwolenników dzięki takim filmom, jak Dirty Dancing czy Dirty Dancing 2 (Havana Nights). Aktualnie pod nazwą "mambo" rozumie się przede wszystkim salsę w stylu NewYork (tzw. "Mambo on2"). Mambo jest podobne do samby w krokach i akcji. Jest jednak bardziej "miękkie".
download (mp3 @320 kbs):
yandex 4shared mega mediafire cloudmailru oboom uplea
Last Updated (Saturday, 21 November 2015 19:50)