Handel's Sarabande from Keyboard Suite in Dm (HWV 437)
Handel's Sarabande from Keyboard Suite in Dm (HWV 437)
Some composers suffer the fate of being remembered through only a handful of their works or, indeed, just a single work. George Frideric Handel was lucky in this respect. Although the general public will tend to only remember his Messiah, Water Music and Music for the Royal Fireworks, the more serious music lover will know of his many other works.
Handel's harpsichord music has very little of the profound symmetry and varnish that have made Bach's keyboard works famous, or even the simple élan found in similar works of the great Italian, Domenico Scarlatti. As a result, Handel's entries in the genre have been sadly neglected.
Handel's Sarabande from Keyboard Suite in Dm (HWV 437)
The reason that Handel's keyboard output would seem, at first glance, to fall noticeably below the bar set by his two worthy contemporaries is simple: Handel never intended any of it to be published, and Handel as a rule took a great deal less care with music not meant for public consumption than he did with the commercially minded operas and oratorios upon which his reputation still rests.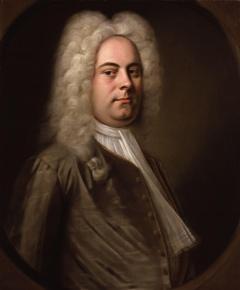 George Frideric Handel
The Keyboard suite in D minor (HWV 437) was composed between 1703 and 1706. It is also referred to as Suite de pièce Vol. 2 No. 4. It was first published in 1733. The work consists of five movements:
1 	Prelude 	
2 	Allemande 	
3 	Courante 		
4 	Sarabande  with two variations 
5 	Gigue.

The fourth part – Sarabande - is one of the most famous works for solo keyboard.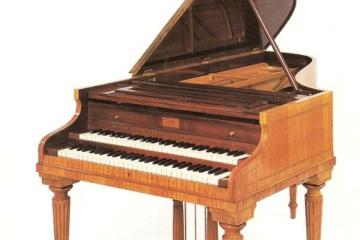 Harpsichord
Baroque Suites consisted of a number of dance movements (often including a Allemande, Courante, Sarabande and Gigue in that order, but with many variations). Some Suites were written for small groups of players but Keyboard Suites were common. A Sarabande is a slow stately dance in triple time, with the rhythmic emphasis on the first 2 of the 3 beats. Handel wrote several keyboard suites in D minor, with this one catalogued as HWV 437 and the Sarabande consists of a theme with 2 variations.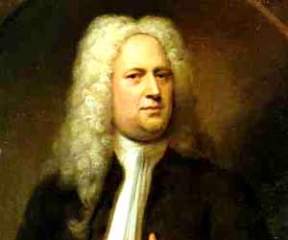 George Frideric Handel
The sarabande is first mentioned in Central America: in 1539, a dance called a 'Zarabanda' is mentioned in a poem written in Panama by Fernando Guzmán Mexía. Apparently the dance became popular in the Spanish colonies before moving back across the Atlantic to Spain. While it was banned in Spain in 1583 for its obscenity, it was frequently cited in literature of the period (for instance in works by Cervantes and Lope de Vega).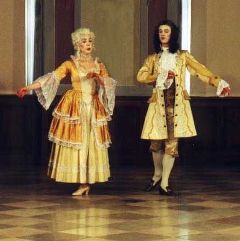 Sarabande, dance
Handel's Sarabande would have been played on a harpsichord, and the player would probably improvise some ornamentation, e.g. arpeggios and mordents. Versions for piano are played with no ornamentation or repeats.
This tune is often called Handel's Folia. La Folia literally meaning madness, folly, or empty-headedness is one of the most remarkable phenomena in the history of music. This simple but intriguing tune was first published in 1672. Its roots go back to the 16th century. It would remain a major challenge for numerous composers up to the present day; ranging from a part of a famous Bach Cantata to a popular film tune in the hit charts by Vangelis.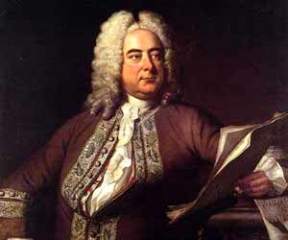 George Frideric Handel
Everybody can hear that it is no Folia but since Handel did not write any Folias at all and this piece breaths the same atmosphere, and most likely Handel had the Folia-theme in mind when composing this Sarabande, it became known as 'Handel's Folia' in much the same way as the widespread misunderstanding that 'Take Five' was written by Dave Brubeck because his quartet always played the piece. The similarities between the Folia-theme and the Sarabande by Handel are striking in any way: theme and variations over 16 bars with two regular eight measure phrases, rhythmically the dotted value on the second beat of each measure and the same sort of voicing in upper and lower register.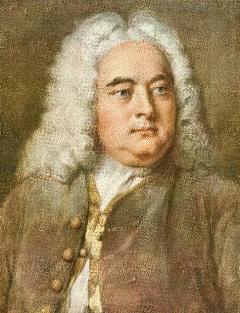 George Frideric Handel
Johan Halvorsen arranged the theme for violin and viola in 1897 (theme and 11 variations). The popularity of Handel's Sarabande is immense after launching the arrangement for an orchestral setting in the film of Stanley Kubrick's Barry Lyndon.
Sarabande from Barry Lyndon
Last Updated (Tuesday, 24 February 2015 22:25)