Brecker Brothers - Collection Vol.2 (1990)
Brecker Brothers - Collection Vol.2 (1991)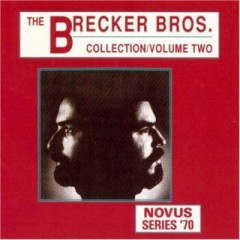 01. Rocks
02. A Creature Of Many Faces
03. Funky Sea, Funky Dew (Live Version)
04. Skunk Funk (Live Version)
05. Sponge (Live Version)
06. Squids (Live Version)
07. Tee'd Off
08. Squish
09. Baffled
10. Not Ethiopia
11. Jacknife

Don Alias - Percussion
Manolo Badrena - Percussion
Terry Bozzio - Drums
Michael Brecker - Composer, Producer, Sax (Tenor)
Randy Brecker - Composer, Keyboards, Producer, Trumpet
Hiram Bullock - Guitar
Rafael Cruz - Percussion
George Duke - Synthesizer
Sammy Figueroa - Percussion
Barry Finnerty - Guitar
Mark Gray - Keyboards, Piano (Electric)
Don Grolnick - Keyboards
Neil Jason - Bass
Steve Jordan - Drums
Will Lee - Guitar
Ralph MacDonald - Percussion
Bob Mann - Bass
Harvey Mason, Sr. - Drums
Marcus Miller - 	Bass
Richie Morales - Drums
David Sanborn - Sax (Alto)

The Breckers were often dismissed as shallow R&B fusion at the time these recordings were waxed, which is understandable given the music's rock star swagger and Michael Brecker's propensity to play as many notes as humanly possible.
However, that doesn't take into account Randy Brecker's innovative horn arrangements (tight clusters that ended up gracing hits by Diana Ross and Cameo, among others), the revolutionary non-functional harmonic structure of R&B based tunes such as "Some Skunk Funk," Michael's John Coltrane meets King Curtis saxophone wizardry, or Randy's chromatic approach to improvisation on the trumpet.
The cuts on Volumes 1 and 2 gather together most of the Brecker Brother's better tunes and avoid their putrid attempts at pop (Fingerlickin' Good, Oh My Stars). Hint: Make sure you pick up The Brecker Bros. Collection, Vol. 2, as well.
There are a few missing tunes (the burning Tabula Rasa, for example), but the only way you could do better than The Brecker Bros. Collection would be to purchase all the Brecker Brother's original recordings on cd, burn the best cuts and make your own best-of collection. And truthfully, the effort and expense would only be worth it for true die hard Brecker Brothers fans. --- jazzbonotes.com
download: uploaded yandex 4shared mediafire solidfiles mega zalivalka filecloudio anonfiles oboom
Zmieniony (Poniedziałek, 04 Sierpień 2014 20:47)