Blink-182 – Greatest Hits (2005)
Blink-182 – Greatest Hits (2005)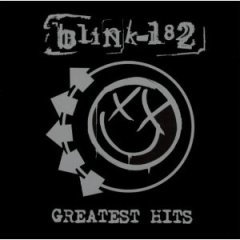 1. Carousel
   2. M+M's
   3. Dammit
   4. Josie
   5. What's My Age Again
   6. All The Small Things
   7. Adam's Song
   8. Man Overboard (live)           play
   9. Rock Show
  10. First Date
  11. Stay Together For The Kids
  12. Feeling This                   play
  13. I Miss You
  14. Down
  15. Always
  16. Not Now
  17. Another Girl, Another Planet
  18. Aliens Exist (live)

Musicians:
  * Tom DeLonge - guitar, vocal
  * Mark Hoppus - bass, vocal
  * Travis Landon Barker - drums
  * Scott Raynor - drums

This greatest-hits collection spans the short career of one of pop-punk's most celebrated outfits, blink-182. The album features tracks from their 1994 debut Buddha through to the more experimental final album, 2003's blink-182. The album serves as a perfect introduction into the band's hook-driven pop-punk which has always involved a large dose of frat-boy toilet humor. Pop-punk trio blink-182 was formed in 1992 by Tom DeLonge (vocals/guitar). He was joined by Mark Hoppus (vocals/bass) and Scott Raynor (drums). By 1993 they had recorded their first demo tapes leading to them signing with Cargo Records in 1994. Their first album was Cheshire Cat and some of the songs from the original demos found their way onto this release. Their second outing was 1996's Dude Ranch which was fairly successful, selling 4 million copies worldwide. Unfortunately, this release saw the departure of Raynor as a result of his escalating drink problem. He was replaced by Travis Barker. In 1999 they released the hugely successful Enema of the State selling over 10 million copies and spawning the hit singles "All the Small Things" and "Adam's Song". They followed this up with Take Off Your Pants and Jacket in 2001 and blink-182 in 2003. The eponymous album represented a move to a slightly more mature, darker sound -- evidenced in the hit singles "I Miss You" and "Always".
In 2005 blink-182 announced that they would be taking an indefinite hiatus in the wake of growing rumours of tensions within the band. DeLonge then released an album We Don't Need to Whisper with his new band Angels and Airwaves and Hoppus and Barker formed +44 releasing When Your Heart Stops Beating in late 2006.
Greatest Hits to ostatni album Blink-182. Na albumie znajdują się najlepsze piosenki, które grał zespół od początku swego istnienia. Został wydany 1 listopada 2005. Blink-182 to amerykański zespół grający punk rock kalifornijski zwany często pop punk. Grupa powstała w Poway, w Kalifornii w roku 1992, był aktywny do roku 2005, wtedy też członkowie Blinka zawiesili działalność i założyli swoje własne zespoły. Mark i Travis zaczęli nagrywać płyty z Plus 44, a Tom zajął się grupą Angels & Airwaves. 8 lutego oficjalnie ogłosili reaktywację zespołu a 15 maja zagrali pierwszy od 4 lat koncert na żywo.
download (m4a @256 kbs):
yandex 4shared mega mediafire cloudmailru uplea
Zmieniony (Niedziela, 10 Lipiec 2016 08:17)